Ph.D. in Learning, Leadership, and Education Policy – concentration in Sport Management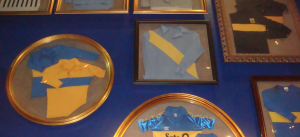 The Ph.D. degree in Learning, Leadership, and Education Policy concentration in Sport Management is a program designed around the theoretical frameworks of these disciplines, as well as the applied nature of sport in our society. Core courses are determined in conjunction with the student's major advisor.
18 credit hours of core courses in Learning, Leadership, and Education Policy
9 credits hours of Sport Management core courses
At least 12 credit hours of statistics/research methods course
9 credit hours in a cognate area. Students have chosen cognate areas in such disciplines as Anthropology, Sociology, Psychology, Marketing, Management, and Finance.
15 credit hours of Dissertation Research, completion of a comprehensive examination, and successful dissertation defense
Ph.D. Plan of Study
Learning, Leadership, and Education Policy Courses  (15 credits)
EDLR 6313 — Educational Policy and Politics
EDLR 5204 — Organizational Learning
EDLR 5201 — Influences on Adult Learning
EDLR 6467 — Social Justice Leadership, Equity, and Change
EDLR 6050 — Proposal/Prospectus Development I
Sport Management Courses (9 credits):
EDLR 6300 — Organizational Theory in Sport
EDLR 6310 — Organizational Behavior in Sport
EDLR 6315 — Current Research in Sport Management
Research Methods and Statistics (minimum 12 credits beyond the master's
degree)
EPSY 5607 — Quantitative Methods in Research II
EPSY 5613 — Multivariate Analysis in Educational Research
EPSY 6601 — Methods and Techniques of Educational Research
EPSY 5601 — Principles & Methods in Educational Research
EPSY 5610 — Applied Regression Analysis for the Education Sciences
EPSY 5613 — Multivariate Analysis in Education
EPSY 5621 — Construction of Evaluative Instruments
EDCI 5824 — Educational Ethnography
EDCI 6000 — Qualitative Methods of Educational Research
EDCI 6005 — Advanced Methods of Qualitative Research
EDCI 6052 — Advanced Qualitative Methods
Cognate Area(s) (9 credits)
Courses to be taken from outside the Dept. of Educational Leadership
Courses may be taken, with the consent of the major advisor and the student's advisory committee from management, marketing, sociology, psychology, anthropology, educational leadership, management and finance, among others.
Graduate School Required Doctoral Dissertation Research credits (15 credits minimum)
GRAD 6950 — Doctoral Dissertation Research
In addition, students must pass a General Examination to progress to doctoral candidacy. A written dissertation proposal must be orally defended prior to beginning the dissertation phase.