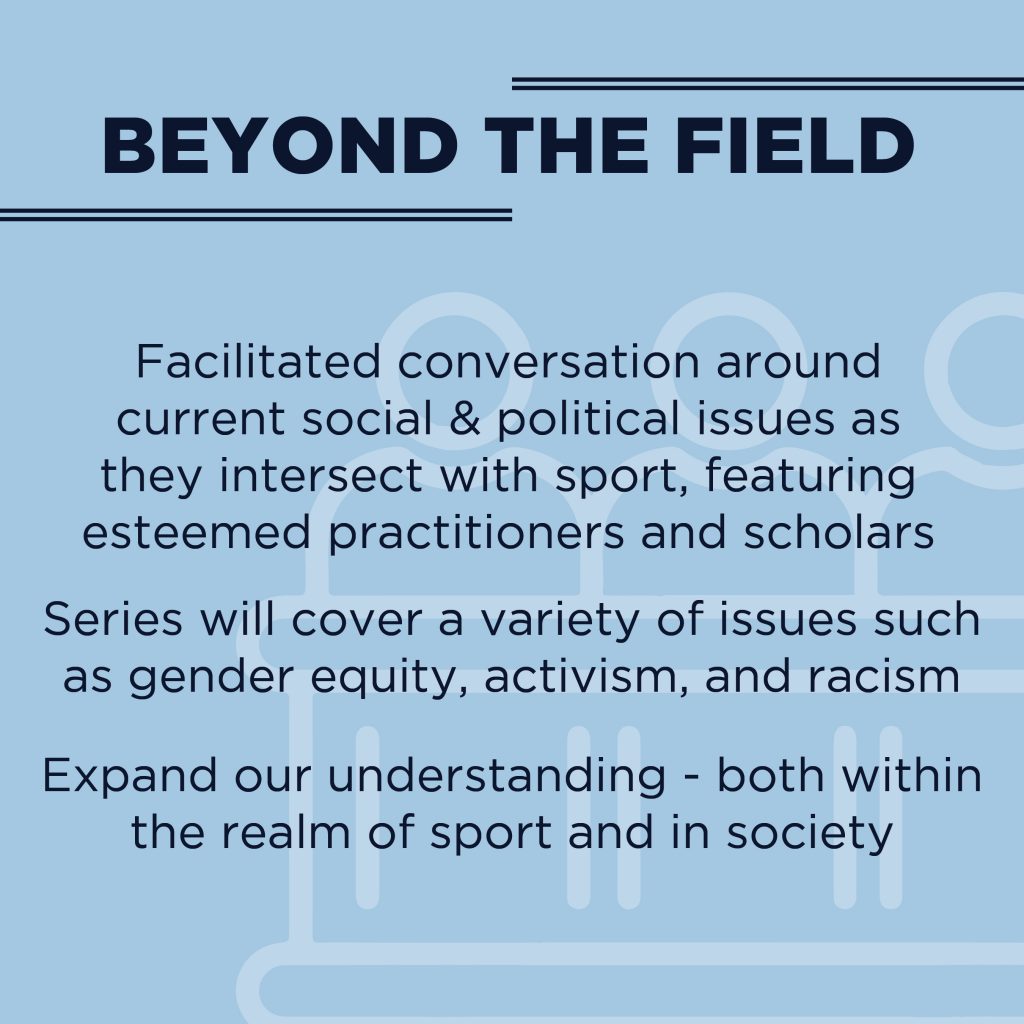 What is Beyond the Field?
Beyond the Field was started in the spring of 2016, as a culminating project led by Wura Olusekun, a former master's student in the Sport Management Program.  The series began with Wura's desire to extend conversations that were happening in the classroom and to deepen the understanding of critical issues in the sport industry and the world around us.
Branching from the initial idea, the series has evolved to include multiple offerings per semester as a way to engage partners, students, faculty and staff across the university campus and beyond.  The Beyond the Field series seeks to create open dialogue around current social and political issues as they intersect with sport by inviting esteemed scholars and practitioners to share their experiences and research.
Facilitated conversations with guests will cover a variety of issues such as gender equity, activism, and racism.  By examining these topics through the lens of sport, we aim to create a space to further our understanding-both within the realm of sport and in society.  We're excited to engage in these critical conversations then #Connect them back to our courses and experiences as part of the UConn Sport Management Program.
Upcoming Beyond the Field Events
CULTURAL POWER OF SPORT
Black Lives Matter & Athlete Activism

September 16, 2020 | 7pm EST
This segment of Beyond the Field will examine how sport is a vehicle for acknowledging racial injustice and inequity. This panel will explore and connect historical protests against racial injustice in sport, with contemporary examples of athletes demonstrating against injustice in sport. A goal of this panel is to illuminate how contemporary protests have a connection to historical protests and how disparate generations of athletic protest differ from their counterparts. This panel includes athletes who have protested, speakers knowledeable of the history of Black athlete protests, and individuals who can speak to the socio-cultural and socio-political nature of athlete protests.
This event is open, however you must register here.
MEET THE PANELISTS: Black Lives Matter & Athlete Activism
MARK YOUR CALENDAR
October 21, 2020 | 7pm EST
COVID and Intercollegiate Athletics in Sport/Labor
November 18, 2020 | 7pm EST
COVID and the Economics of Women Athletics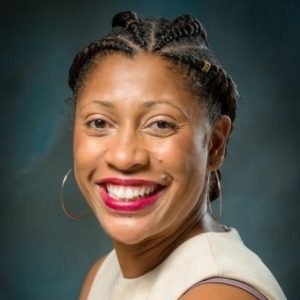 AKILAH R. CARTER-FRANCIQUE PH.D.
Dr. Carter-Francique is the Executive Director for the Institute for the Study of Sport, Society, and Social Change (ISSSSC) at San Jose State University. She is also an Associate Professor at SJSU in the Department of African American Studies. Her scholarly endeavors and field of focus encompasses the intersection of sport, society, and social justice that is inclusive of issues of diversity, social movements, and the dynamics of social change and development. Carter-Francique served as the 2018-2019 President of the North American Society for the Sociology of Sport (NASSS), currently serves as a member of Laureus "Sport for Good" Research Council in the U.S., and she is the co-editor of Athletic Experience at Historically Black Colleges and Universities: Past, Present, and Persistence and Critical Race Theory: Black Athletic Experiences in the United States.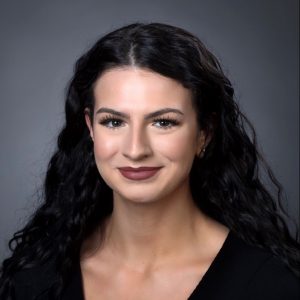 GENEVIEVE FLORIG
Genevieve is currently in her 5th year at University of Connecticut, pursuing her Master's in Sport Management. She plays middle blocker on the women's volleyball team. She is the founder and president of the Student-Athlete Equity Coalition, which promotes unity and collaboration to achieve transformative change within the UConn Athletics Community. This space also serves as a platform for student-athletes to be vocal and educate one another on social injustice while also leading action against discrimination.
Sport Management, B.S. '20, M.S. '21
Founder & President of the Student-Athlete Equity Coalition
Women's Volleyball player #8
University of Connecticut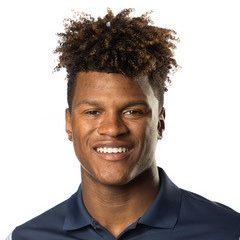 OMAR FORTT
Omar is a Senior at University Connecticut and is currently majoring in Urban & Community Studies with a minor in Communications. He plays Linebacker on the football team and is currently on the UConn Husky Leadership Council. He currently serves as the Vice President in UCSAEC, which promotes change in the UConn athletic community through breaking barriers of social injustices in the system and promoting a healthier and inclusive environment at UConn.

DANIEL J. THOMAS III
Daniel earned his bachelor's degree in History from the University of Maryland, College Park. He then earned his master's degree in Education from Johns Hopkins University and spent two years as a high school teacher in Maryland before working in the academic unit of athletics for the football team at UC Berkeley. Daniel's research interests centers on historical and contemporary issues related to Black male teachers and high school student-athletes in schools. Daniel's research has been published in Race Ethnicity and Education and the Peabody Journal of Education.
Previous Beyond the Field Events
February 11, 2019

Pioneering Journalism in Major League Baseball 
Claire Smith was at the forefront of a revolution in sports writing, a pioneer who did not knock down clubhouse doors, but righteously persisted until they opened. Ms. Smith, currently an ESPN news editor, is the first woman Major League Baseball beat writer and first woman to win the prestigious J.G. Taylor Spink Award, presented annually by National Baseball Hall of Fame. This event was part of National Girls and Women in Sports Day.
Co-sponsored with The Women's Center, UConn Athletics and the African American Cultural Center.
Related readings from the discussion
October 11, 2018

Women's Empowerment through Sport
Named a 2018 Stuart Scott Sports Humanitarian Award Honoree, the Global Sports Mentorship Program (GSMP) was launched in 2012, through a partnership between the U.S. Department of State, espnW, and the Center for Sport, Peace, and Society at the University of Tennessee.
GSMP is a sport-based mentorship initiative that seeks to empower women and girls through sports. Individuals from around the world who exhibit strong leadership skills and a drive to make change are nominated by the State Department and immersed in a mentorship program with top sports leaders. These delegates foster connections with mentors and create an action plan to bring back to their home country, focused on implementing initiatives and strengthening communities through sport. GSMP has graduated 99 delegates who have gone on to impact 225,000 lives in more than 55 countries.
For the October 2018 edition of Beyond the Field was a panel that featured two GSMP delegates, Dr. Tra Giang "Jane" Nguyen (Vietnam, current class) and Aline Silva (Brazil, '16), as well as Dr. Sarah Hillyer, Program Director.
Learn more from GSMP's website and check out the event photos
April 25, 2018

Breaking Glass: How Women Fearlessly Navigate the Sport Industry 
Mary Ellen Gillespie - Mary Ellen is Director of Athletics of the University of Hartford. Previously, Mary Ellen served as the Director of Athletics at the University of Wisconsin-Green Bay for 4 years. She has also held leadership positions at Bowling Green State University, Purdue University's Schools of Nursing and Health Sciences, the North American Interfraternity Conference, the University of Iowa and the State University of New York at Plattsburgh. In addition to these impressive accomplishments, she is a member of the NCAA's Division I women's basketball committee and the Division I-AAA Board of Directors.
Alaina Di Giorgio - Alaina is the Director of Diversity and Inclusion at Elms College in Chicopee, Massachusetts. She has held positions at the University of Tennessee and Western Illinois University. At Tennessee, she was a member in the Multicultural Mentorship program and Ad Hoc Diversity Committee. Prior to Tennessee, she founded Women Empowering (WE) to strengthen community and support for female athletes at Western Illinois University. DiGiorgio is an active member of the North American Society for the Sociology for Sport and has presented at numerous conferences on topics related to the intersection of race and gender in collegiate athletics.
Beth Goetz - Beth is currently the Chief Operating Officer and Senior Woman Administrator at the University of Connecticut. She oversees all internal departments within Athletics, serves as a key member on the Division's leadership team, and is the sport administrator for football. Beth previously served as the deputy and interim AD at Minnesota, the Associate Athletic Director and the Senior Woman Administrator at Butler, and also held several different roles at Missouri - St. Louis including women's soccer head coach, assistant athletic director, and senior woman administrator.
Watch the full recorded event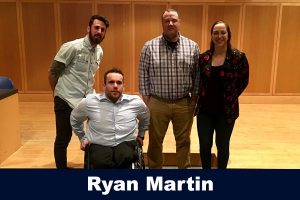 March 28, 2018

Inclusivity vs. Accessibility: Why adaptive sports makes sense at the collegiate level
Ryan Martin is the founder of the Ryan Martin Foundation, and also spends time a consultant for the NCAA on their Inclusive Sports Model. The mission of his foundation is to help youth and adult athletes with disabilities live independent, impassioned, productive and full lives through sports training, mentoring and education. Ryan is a graduate of Southwest Minnesota State University and led SMSU to the NWBA National Title Game in 2001. After graduation, Ryan joined the Phoenix Wheelchair Suns and played in the 2005 NWBA All-Star game. In 2007, Ryan joined the professional basketball league in Europe.  He played 10 season in Spain and France. This season Ryan is playing for the New York Rolling Knicks of the NWBA.
Visit his website to learn more about the foundation and listen to the full recorded event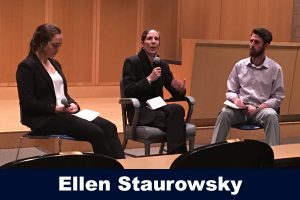 February 14, 2018

Holding Systems Accountable: Title IX, Amateurism, and Social Justice in Sport 
Dr. Ellen Staurowsky is an internationally renowned expert on issues about social justice throughout sport. This includes the rights of college athletes, gender equity and Title IX, in conjunction with the misappropriation of American Indian symbolism. Not only is she an expert in these fields, she is also the lead author on the Women's Sports Foundation's 2015 report Her Life Depends on It III:  Sport and Physical Activity in the Lives of American Girls and Women, and the book, College Athletes for Hire: The Evolution and Legacy of the NCAA Amateur Myth.
She has also co-authored numerous reports with Executive Director of the National College Players Association, Ramogi Huma, including The $6 Billion Heist:  Robbing College Athletes Under the Guise of Amateurism. Dr. Staurowsky has made many appearances in high profile news organizations such as Forbes, Huffington Post, The New York Times and U.S. News & World Report.
Watch the Motivational Jumpstart radio interview and the full recorded event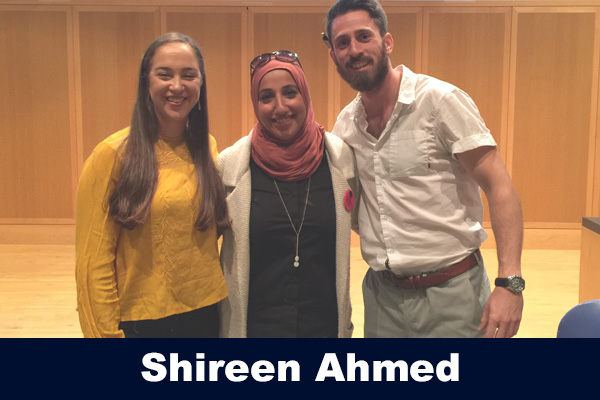 November 8, 2017

Burn it All Down: A Conversation with Shireen Ahmed
Shireen Ahmed is a writer, public speaker and sports activist focusing on Muslim women in sports. She is an athlete, advocate, community organizer, and works with youth of colour on empowerment projects and is an avid sports coach and mentor. She is a regular contributor to Muslimah Media Watch, a Global Sports Correspondent for Safe World For Women and Works on the Muslim Women in Sports website.
Her work has been featured and discussed in Sports Illustrated, Racialicious, Policy Mic, The Globe and Mail, Jezebel, VICE Sports, Islamic Monthly, Soccer Politics/ The Politics of Football, A Football Report, Huffington Post, Football Beyond Borders, International Museum of Women, Best Health Magazine, Aquila Style, Muslim Voices, Women Talk Sports, Footynions, espnW and Edge of Sports Radio.
To learn more:
http://www.shireenahmed.com/welcome/ 
https://www.pri.org/stories/2014-06-09/i-was-made-feel-i-had-choose-between-my-faith-and-my-soccer
Watch the Motivational Jumpstart radio interview and the full recorded event
October 11, 2017

Playing for Change
The Soccer Without Borders mission is to use soccer as a vehicle for positive change, providing under-served youth with a toolkit to overcome obstacles to growth, inclusion, and personal success. SWB is an international organization with locations across the United States as well as Kampala, Uganda and Granada, Nicaragua.  SWB Boston serves newcomer refugee, asylee, and immigrant boys and girls ages 7-16 living in East Boston and surrounding cities with an emphasis on family engagement. The SWB curriculum involves soccer, educational support, civic engagement, team building, and cultural exchange. 
This year, Soccer Without Borders was awarded the 2017 Urban Soccer Symposium Impact Award from the U.S. Soccer Foundation for using sport to enact measurable and sustainable positive change within an underserved community for at least five years.
Check out their website at: https://www.soccerwithoutborders.org/
Watch Motivational Jumpstart's radio interview and the full recorded event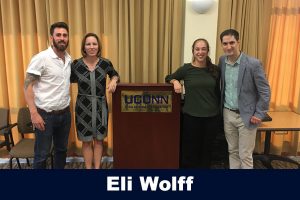 September 13, 2017
The Power, Potential, and Purpose of Sport
Eli Wolff is a Program Director of the Sport and Development Project at Brown University and also directs the Inclusive Sports Initiative at the Institute for Human Centered Design. His work focuses on the intersection of research, policy and practice to advance sport and human rights, development and social change.
Wolff coordinated efforts to include sport within the United Nations Convention on the Rights of Persons with Disabilities. He has also been active in Olympism and Olympic education, as well as athlete activism. Wolff has contributed to advancing sport and development through research, policy and practice.
For more information, please visit:
https://www.sportanddev.org/en/user/eli-wolff
http://kwhs.wharton.upenn.edu/2012/01/advocate-eli-wolff-the-disabled-athlete-is-still-siloed-and-segregated/
Motivational Jumpstart's radio interview
April 27, 2017
Brazil's Dance with the Devil; Game Over: How Politics Has Turned the Sports World Upside Down; What's My Name, Fool!; The John Carlos Story
The Sports Moment That Changed the World, among others
Dave Zirin is a contributor to The Nation and SLAM Magazine where he focuses on the intersection of politics and sport.  He has published a variety of books that examine the effects of specific athletes and events in our sporting history, including John Carlos, Muhammad Ali, Ethan Thomas, and others.  His most recent book, Brazil's Dance with the Devil, explores the effects of hosting the 2014 World Cup and 2016 Olympics on the culture, politics, and economy of Brazil.  
Zirin's work focuses on the intersection of sport and politics, athlete's roles in society, and how mega-events emphasize the extreme commodification of sport and exemplify neoliberalism in its purest form. Dave Zirin's writing forces readers to reflect, ask questions, and change the way they think of sport. As an institution that is continuously aiming for the holistic development of students as socially and politically conscious individuals, everyone will benefit from a discussion with Dave Zirin, especially in light of the recent controversies surrounding the 2016 Olympics.
Read more about Dave's visit from The Daily Campus news article and check out Dave's Website and Twitter account
April 20, 2017
Criminalized and Commodified: New Racism and African Americans in Contemporary Sports; After Artest: The NBA and the Assault on Blackness
One of the speakers who is very interested in visiting is David J. Leonard, Ph.D. Dr. Leonard is a Professor in the Critical Culture, Gender, and Race Studies at Washington State University. His work focuses on transformative teaching, interdisciplinary scholarship, and the continued significance of race in popular culture. In his book, Criminalized and Commodified: New Racism and African Americans in Contemporary Sports, David Leonard discusses the illusion of racial progress often pointed at within the athletic arena. David Leonard discusses how the modern sporting arena places athletes in a contradictory position. In After Artest: The NBA and the Assault on Blackness, Dr. Leonard discusses how the Artest, "Palace Brawl" ushered in a new era of racialized disciplinary actions and policies governing the actions of basketball players.
Dr. Leonard's interest and expertise has the potential to reach a wide audience of students, faculty, and staff and the University of Connecticut. This is a school with highly successful intercollegiate athletic teams. Our Sport Management Department is focused on using sport as a platform for education and social justice. And there are several campus organizations which directly or indirectly discuss these issues. All these reasons make the University of Connecticut an ideal host for a conversation with David Leonard, athletics, and racial politics.  
The Motivational Jumpstart radio interview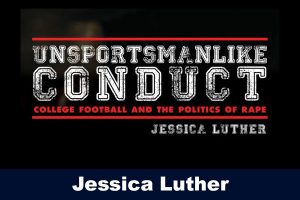 March 20, 2017
Unsportsmanlike Conduct: College Football and the Politics or Rape; Frequent contributor to ESPN's Outside the Lines, Freelance Journalist
Jessica Luther is a freelance writer and journalist who primarily focuses on sports violence off the field as well as college football and sexual assault. Jessica is also a member of the Texas Program in Sports and Media at the University of Texas and the Association for Women in Sports Media. She has recently published, Unsportsmanlike Conduct: College Football and the Politics of Rape. The book covers the vast number of sexual assault cases directly related to athletic departments on college campuses across the United States.
Luther's continued work on and activism against sexualized violence is an important conversation that needs to be taking place here at the University of Connecticut. While Luther has primarily focused on sexualized violence within the athletic world, the knowledge she possesses regarding this subject matter allows her to delve into the intricacies of this complex issue that is prevalent throughout college campuses and our society.  
Watch Motivational Jumpstart's radio interview and visit Jessica Luther's Website and Twitter account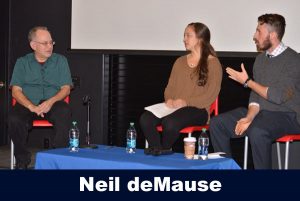 November 4, 2016
Field of Schemes; How the Great Stadium Swindle Turns Public Money into Private Profit
Neil deMause is a regular contributor to Vice Sports, Extra!, the Village Voice, and City Limits, among other publications. He has appeared on television several times as well as testified before congress regarding the public funding of athletic arenas and sports venues. In, Field of Schemes; How the Great Stadium Swindle Turns Public Money into Private Profit, deMause discusses how wealthy owners, zealous politicians, and fearful fans manipulate and are duped into the financing of large, expensive stadiums and arenas.
DeMause's expertise has been highlighted before Congress when testifying on the issue of public funding for stadiums and arenas. The knowledge deMause possesses on this issue and specifically the state of Connecticut's own soiree with publicly funding several stadiums will be intriguing for all active and engaged citizens. The political arena is not immune to the athletic world and vice versa. It is important to understand the complex political posturing that takes place to complete these complex deals.
Motivational Jumpstart's radio interview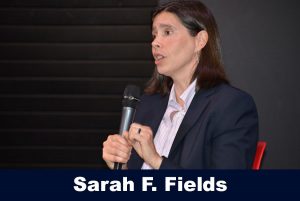 October 4, 2016
Game Faces: Sports Celebrity and the Laws of Reputation, and Female Gladiators: Gender, Law, and Contact Sport in America
Sarah Fields is an Associate Professor and Acting Associate Dean for the College of Liberal Arts and Sciences at the University of Colorado, Denver Campus. Sarah Fields' work is primarily focused on the intersection of gender, race, sexuality and law as it pertains to athletes and sports personalities. She has recently published, Game Faces: Sports Celebrity and the Laws of Reputation, which examines how high profile athletes fought against, what they believed to be, violations of their privacy and image.
A unique examination of sports celebrity is a vitally important conversation as we continue to hurdle into technologies of the 21st century. Many of us, if not all, have a computer in our hands with capabilities of capturing and sharing our mundane to most intimate moments.  It is important to be engaging in a conversation around what athletes and sport celebrities have done to ensure their privacy while providing a distinguished perspective on this issue.
Read more about Sarah's discussion at UConn and listen to a recent radio interview by Motivational Jumpstart