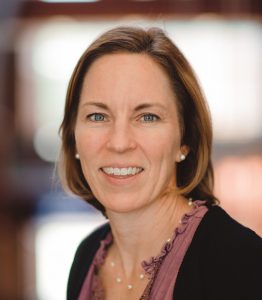 Earlier this year, Dr. Jennifer McGarry accepted the highest award you can earn in the field of sport management, the Earle F. Zeigler award.  This award acknowledges significant contributions to the field in terms of scholarship, research, leadership, and peer recognition.  To celebrate this accomplishment we wanted to take a deeper look at how she's gotten to where she is today, what she's proud of and how sport has play a role in her life.
Q: How did you get from your undergrad to where you are today?
A: When I graduated undergrad I was planning to be a high school English teacher and volleyball coach. I student taught and coached high school volleyball then had an opportunity to get my master's degree and gain more experience coaching as a graduate assistant. Once I had that experience, I realized that I wanted to coach in college so I pursued that path and spent 8 seasons at Kenyon College in Ohio. During that time, I took some classes at Ohio State as I knew I wasn't done with school, but was not sure what was next for me. I discovered sport management at that point and with good mentorship from people I worked with at Kenyon and my future advisor, Donna Pastore, I decided to pursue a Ph.D. in sport management at Ohio State. When I completed my degree in 2000, I was still unsure of what was next. I was serving as the interim athletic director at Kenyon and had some interest in exploring athletic administration as a career path, but I also felt strongly about teaching and research so also pursued faculty positions. UConn was the best fit for me of the positions I interviewed for so I accepted the position in the spring of 2001 and have been here ever since.
Q: What are some of your interests/areas of study related to Sport Management?
A: My dissertation focused on the experiences of Black female college athletes as they are overrepresented in certain sports and underrepresented in others. In many ways my dissertation research has shaped every study I have engaged in since. While I do not only focus on Black female college athletes any longer, the implications of what I learned from my dissertation formed the basis for Husky Sport and my scholarship on sport-based youth development and campus-community partnerships. I have also devoted time to studying the experiences of women coaches at the NCAA level as well, both the underrepresentation of Black women at the head coach level and how women navigate motherhood and head coach roles.
Q: What are your goals moving forward?
A: I am currently on sabbatical so I've thought a lot about my future goals in expectation of this year, and for what comes next. This year I am focusing on completing projects that I've already started and supporting my recently graduated Ph.D. students in publishing their dissertation work as well as my current Ph.D. students who are in various stages of their dissertations. I've spent the last five years as department head and have not had the time to focus on research and advising. That's something I've missed and know I could be doing better.
Q: What do you enjoy doing in your spare time?
A: I spend a lot of time supporting my kids in their academic and athletic activities, so time for family is mostly what I do when I am not working. I also like to stay active. I bike when the weather allows, and began yoga about 4 years ago and have enjoyed that. My sabbatical has also been great for reading. When I am teaching, all of my reading is for classes except for a few books I sneak in during breaks and the summer. This fall, I've been reading a lot. My last book was Bryan Stevenson's Just Mercy. I'm wishing I would have had the opportunity to hear him speak when he was on campus a few weeks ago. His tireless efforts to change the racist criminal justice system in this country are inspiring.
Q: What in your life/career are you most proud of?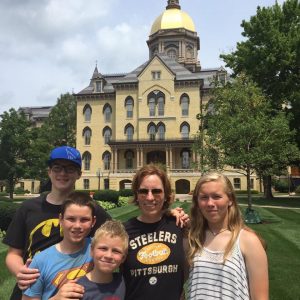 A: I'm most proud of my family. I have four kids. One who was 2 months old when I accepted the job at UConn and the other three were born while I was on the tenure track. While I certainly struggled to parent and be a professor, I think they all turned out pretty well. My oldest is planning to attend UConn next year and some of his siblings might follow. I enjoy the time I spend with each one of my kids and am looking forward to having one of them at UConn next year.
Q: Who is/was your favorite sport idol?
A: When I was younger, there were even fewer opportunities to see women participating in sports so my idols tended to be male—Ryne Sandberg, Michael Jordan. I did admire Cheryl Miller's basketball skills and watched her play whenever there was a chance and will never forget when Ann Meyer tried out for the Indiana Pacers when I was a kid. As I grew older and learned more about activist athletes, I spent time reading about Muhammed Ali's early career and have to say I admire him. And, I have to greatest respect for the women athletes who are fighting for equal treatment and pay today. The entire USWNT and Megan Rapinoe in particular.
Q: What is one quote that you live by or that inspires you? 
A: "You are not lucky. You know what you are? Smart, talented, you take advantage of the opportunities that come your way and you work really, really hard. Don't ever call yourself lucky. Call yourself a badass." -Shonda Rhimes
For more information on Dr. McGarry and her Zeigler award, follow us on Twitter and Instagram @UConnSPM, check out Neag's story from September 2019, and the State of Sport Management's podcast with Matt Huml, from October 2019.