Alumni Focus: Fernando Carrasquillo – Steele Internship Program at the National Baseball Hall of Fame & Museum, Summer of 2013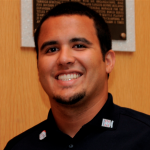 As a part of a continuing series, we turn the spotlight on members of the UConn Sport Management Program (SMP) Alumni Community, focusing on the diversity of experience and breadth of knowledge they have gained within the industry. Designed to help current and future SMP students learn to navigate and understand the real-world intricacies of sport management, we thank SMP alumni for their valuable contributions and insight. Today, the focus is on UConn alumnus Fernando Carrasquillo (Sport Management, 2013).
Puerto Rico: a Caribbean island and U.S. Commonwealth not only known for its cuisine, beautiful beaches and panoramic views, but also for being an island that lives and breathes baseball. Born and raised in San Juan, it was natural for me to be exposed to baseball through my father and grandfather. Looking back, I wish I had played the sport more and maybe play good enough to make it to Major League Baseball and cement myself in the Baseball Hall of Fame. I know, it's a long shot, but one can always dream right? Still, I found a way to make it into the Hall of Fame, just not as an inducted player, but instead as a Development Intern for the National Baseball Hall of Fame & Museum.
I was fortunate to have been selected as one of 15 interns out of over 600 applicants and the only Latino to do so. I had fulfilled of my lifelong dream of stepping foot into Cooperstown, NY and walk into the same building where the likes of Babe Ruth, Hank Aaron, Roberto Clemente, among others are inducted. Even though it was in the summer of 2013, and no living player was inducted, it was still a wonderful experience just to see all of the legends that have helped make baseball into America's pastime and to spend a summer breathing into the baseball atmosphere.
As a Development Intern, I got to work all areas from the Ticket Booth, to Membership Services to even presenting artifacts to visitors of the Museum, all contributing to fundraising for the Friends of the Hall of Fame Program. This program funds the Education area, preservation of the hall and general maintenance of the Mecca of Baseball. Going from simple interactions with a father showing his son the heroes he grew up watching to letting people know that I was from Puerto Rico and that we contributed to three Hall of Famers, I realized that the Hall of Fame can go a long way to connecting generations, preserving history and most importantly, honoring excellence. I hope that I could open the doors to more Latinos forming part of this prestigious program while opening the doors to more fellow Huskies to honor our school in such a wonderful experience.
NOTE: You can read an article written for Puerto Rico's Primera Hora newspaper by clicking here (can be translated through Google Chrome).
Fernando Carrasquillo
SMP Class of 2013

---