UConn Sport Management Students Attend McCormack Future Industry Leaders Conference at UMass Amherst
(Top, left to right): Michael Niegro ('16), Dylan Kartchner ('17), Matthew Bloomgarden ('17), Glynn Johnson ('18), Paul Wettemann ('18), Jaelin Johnson ('18). (Bottom, left to right): Angela Altamura ('16), Aaron Ryley ('17), Daniel Carrick ('18) and Christos Schwarz ('18)
Written By Christos Schwarz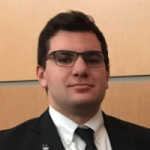 After leaving the McCormack Future Industry Leaders Conference in February of 2015, I felt like I had taken a large first step towards my goal to become a sport professional. Even though I had been a member of the UConn Sport Business Association for a semester, and at the time was the newly elected Associate Vice President, I had only just started working in the Video Services division of UConn Athletics. While I had learned many pieces of advice from the various professionals that the SBA hosts as guest speakers, I hadn't been able to use nearly any of it yet. I got a great opportunity that day to use what I had learned in my first experiential learning environment. I went on to tell other students I learned more that day about Sport Management than any other in my first year at UConn.
It was the second year of the McCormack Future Industry Leaders Conference, and I was excited to get back. Our group of ten students powered through an early wake up and arrived in Amherst at 8AM, excited to be greeted and welcomed into the Isenberg School of Management. There we were served breakfast, and took some time to get to know some of the other UConn students on the trip I didn't previously know, as well as reconnect with some familiar faces from the year prior. The event began soon after with the keynote speaker, Ben Percia, who is the VP of Platform Development at Fenway Sport Management. He spoke about his path to where he is today, and being able to leave your comfort zone in order to reach new heights of your career. He mentioned how he felt slightly uncomfortable giving his first keynote address, but it's an experience that he was glad to get and he hopes he will be asked to do again sometime in the future. Following the keynote, we were dismissed to our workshop groups.
This year, the conference had five segments; Event and Facility Management, Sport Finance, Sport Sales, Representation and Sport Marketing. I was in the Sales group, lead by Preetam Sen, a Director of Partnership Sales for Manchester City FC and City Football Group, and Ryan England, a Manager of Premium Partnerships for the New York Jets. For our workshop, we were grouped with students from other schools, and our task was to present as a New York sports team to the fictional Bank of Gotham on why they should become a corporate sponsor of ours. The sales professionals provided valuable feedback and advice to the groups as they presented, and even when they had constructive criticism they reminded us "it's business, don't ever take it personally."
Once the workshops wrapped up, a networking hour began in the Isenberg Atrium. We continued to talk with professionals, and of course made sure we got good pictures in our business professional attire to update our LinkedIn profiles with. Afterwards, the final event of the program began, the 'Young Guns' panel. This year's group featured professionals who work in the New York, Boston and Atlanta markets, and offered advice on how to stay up to date on the dealings in the industry, do's and don't's of interviews, and advice for applying to jobs and internships. Following that, there was time to briefly network with a few more professionals, and then the day was done. Another successful McCormack Future Industry Leaders Conference was in the books, and I applaud UMass' entire Sport Management community, especially the Committee's Chair Nicholas Kaminski, on a job well done. I really hope to be able to continue to participate in this conference in the future.
Going to this event the past two years has inspired myself and other students to put on an event like this at UConn. While we are still in the planning stages, we now have a team in place and are confident we will be able to accomplish what our friends at UMass have been able to. They have been a great help to us so far, and I trust they will continue to be.
---