UNH Cat Crew
Written By Matt Garrison, Class of 2017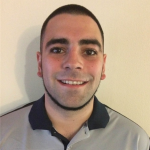 The marketing internship I took part in during my junior year at the University of New Hampshire was called the "'Cat Crew" and it consisted of about 12 students. Each ticketed sport (Men's & Women's Hockey, Men's & Women's Basketball, Football, and Gymnastics) was allocated 2 students who would be in charge of marketing that particular sport with the supervisor overseeing all of the students.
I was a Director of Marketing for Women's Basketball and along with my co-director Taylor, we handled all of the marketing for our sport (planning promotions, creating flyers, organizing staff, managing and executing on game day, etc.). I learned a lot about working within a collegiate athletics department and how important communication is for not only marketing but all the departments in order to work together.
For our final game of the year we implemented a new theme promotion in an attempt to create a new tradition and bring fans to the event. We hosted a "Silent Night" game (modeled after Taylor University) for Senior Night and it was a great success. The department still utilizes the theme and we set new student attendance records for Women's Basketball as well as set a season high for overall attendance.
This internship program at UNH is such a great opportunity and I would recommend that more universities adopt it to offer their students greater opportunity to gain valuable experience in the field as well as network within the profession. This was just one of the many opportunities I was able to take advantage of at the University of New Hampshire, but this experience really helped influence my decision to work towards a career in sports.
---