DIRECTV/ WNBA #WatchMeWork Tour Experience with UConn Alumni Xaimara Coss
Recently DIRECTV and the WNBA concluded with its #WatchMeWork tour in Santiago, Chile as the tour's final destination. To create an intimate environment, the #WatchMeWork tour had 30 young at each panel that ultimately reached 120 women in total, across Bogota, Guayaquil, Buenos Aires and Santiago. These diverse, high school aged women came the DIRECTV Escuela+ schools, local basketball clubs and the Special Olympics.
UConn Sport Managemen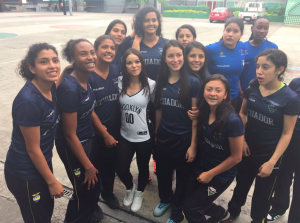 t Alumna, Xaimara Coss took part in the DIRECTV/WNBA #WatchMeWork tour, in Buenos Aires and Santiago, as a panelist representative for the NBA.   Others that contributed to the DIRECTV/WNBA #WatchMeWork tour included Brooklynettes dancer, Melissa Ramos and WNBA legend, Allison Feaster who attended all of the panels throughout the tour. In addition, Stephanie Vieira represented the NBA on the panels in Bogota and Guayaquil. The DIRECTV panelists included a local reporter in Ecuador and representatives from numerous departments across DIRECTV in the other markets. Combined, the panelists offered an impressive perspective on diverse career paths throughout the sports/entertainment industry and served to inspire young women to advance their own professional pursuits.
Xaimara described her experience as being extremely grateful for the opport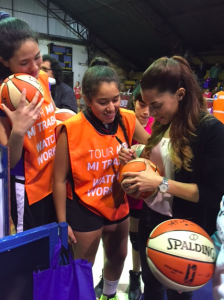 unity and thankful to have participated in the DIRECTV/WNBA #WatchMeWork tour.  Xaimara was tasked with sharing her journey in sports with these young women, ages 13-18, in the hopes that she could inspire and encourage them.  In response, she noted that in actuality, it was her that was inspired by these young women.
In addition, based on Xaimara's opinion, the DIRECTV/WNBA #WatchMeWork tour defines the organization's vision for Corporate and Social Responsibility. Xaimara mentioned this experience was more than just a simple idea which led to creating a panel and organizing clinics, it was a huge achievement for the WNBA and a great way to celebrate 20 years of accomplishments.  The collaboration with DIRECTV proved to be a successful one and their team did an extraordinary job in every city.
A big congratulations to Xaimara for being a proud UConn Alumna and terrific NBA ambassador!
---