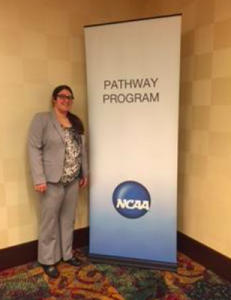 Story written by: Jackie Kelly 
After graduating from the University of Hartford, I was able to accept a position with the NCAA National Office in Indianapolis, IN.  The NCAA offers a postgraduate cohort based internship program that works with various departments throughout the national office. I worked as an intern for the Leadership Development department, which was responsible primarily for creating professional development programming for student-athletes, coaches, interns, graduate assistants and administrators across the NCAA membership.
Many of my daily tasks were focused on preparing for our programs. While working on site, I facilitated activities, panels and group discussions. I really enjoyed traveling to each of the programs, my favorite of which was the Pathway Program. This specific program is a yearlong professional development series held for senior level administrators aspiring to become athletic directors. I spent the majority of my time working on logistics, but was able to sit in on mock interviews and media training sessions as well. We were also able to take site visits to Georgia State University, Georgia Tech, Emory and Clayton State University. During our time at these universities, the participants met with presidents, athletics directors and other current staffers. I was able to sit in on some of these conversations and presentations, which was extremely informative and allowed me to gain some valuable experience.
Over the course of that year I was able to create memories and relationships that I know will last a lifetime. My fellow interns in my cohort were and will always be like my family. Having been granted the opportunity to understand the NCAA from a national, internal perspective so soon after actually being a student athlete was a once in a lifetime experience that I will always treasure.
---