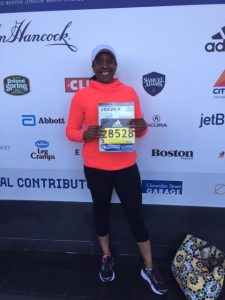 Kydani Dover, a 2007 Sport Management Master's graduate, ran the Boston Marathon for the first time this April to fundraise for a nonprofit, youth development organization that supports students' academic achievement through athletics.
Boston Scholar Athletes works to assist student athletes at the high school level in three areas: academic coaching and mentoring, health and wellness and post-secondary planning, said Dover, who has worked for the organization since August of 2016. It aims to bridge the achievement gap in urban public high schools, 19 of which are in Boston and three in Springfield, Massachusetts.
Dover, along with five others from the organization, ran the 121st annual Marathon with a goal of raising $50,000 altogether. Through their efforts garnering support from friends, family, co-workers and local businesses, they have raised approximately $40,000 in total so far.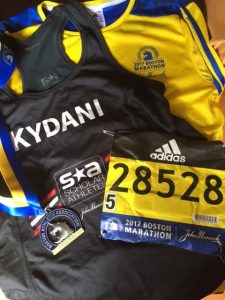 In the months leading up to the marathon, Dover said she was stressed due to the pressure to constantly train and raise money. Even after completing the 26.2 mile race, she agreed that the preparation was the most difficult aspect of it all.
"Running the marathon was one of the best experiences that I've had, everyone was running for different charities and it was kind of like a community event," Dover said. "It was something that was good not only for everyone in Boston but people all around the country. There's people from all over the world, crowds cheering you on, it's really just a one-of-a-kind experience."
Dover added that despite her doubt regarding whether she would be able to finish, all of her training and hard work paid off as she maintained her endurance to make it through the end.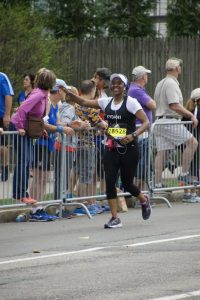 A competitive swimmer in high school and at UConn, Dover picked up running to stay in shape after her athletic career ended. She said that she thought the marathon would be a great opportunity to do something that she enjoyed while also being able to give back at the same time.
The money raised by Dover and the rest of her Boston Scholar Athletes team will support the organization's efforts to increase both academic performance and high school and college graduation rates. According to her fundraising page, a $100 contribution will provide one student with the materials needed to complete a year-long SAT prep while $1,000 will provide 100 members with a college campus visit.
Dover's hard work paid off greatly, and the Sport Management program at her alma mater is very proud of all that she did, and continues to do, to benefit the Boston Scholar Athletes organization.
---