While Title IX celebrated its 45th anniversary last week, members of the UConn Sport Management program publicly acknowledged what its passing, almost five decades ago, has allowed them to accomplish in their personal careers in sport.
Students, alumni, professors, colleagues, teammates, coaches and mentors all joined in on the campaign to honor this milestone, sharing how Title IX has provided them with opportunities to achieve success, and will continue to do so in the future. Check out some of their responses to the prompted statement, "BecauseOfTitleIX..."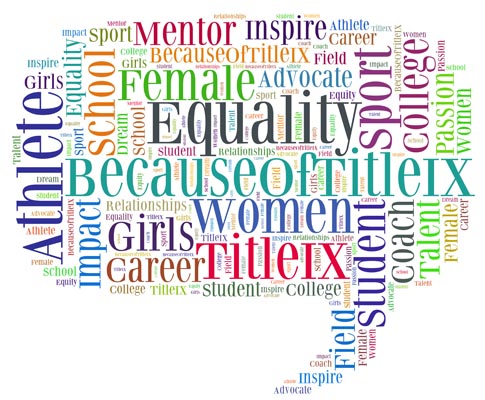 ‪"I'm able to travel the country representing my school & able to pursue a career in the sport industry!"

‪"I've hydrated some of the best athletes, mentored, coached & am inspired daily by incredible women."

‪"I have a spot on the field, a seat at the table, and the opportunity to make an impact"

‪"I'm the first college grad in my family & continue to share my passion for sports w/ student-athletes daily"

‪"I built relationships that'll last a lifetime, learned valuable lessons & can have a career in athletics!"

‪"I have seen female athletes achieve success at the highest level."

‪"I get to promote women in a sport that I have been playing since I was four years old."

‪"I've the opportunity to play the sport I love, surrounded by incredible women whose talents are limitless"

‪"I've had the opportunity to be not only a student-athlete but a college coach, & now Dir of Athletic Development!"

‪"I was able to pole vault in the State of Connecticut as an official track and field event, not an exhibition event, my senior year in high school.  Which set me up to earn the CT state women's record and later the University of Connecticut's school record.  It helped me earn a track scholarship, bachelor's degree and a master's degree in sport management."

"I found my passion and have been able to travel and meet to many inspirational people"

‪"I am able to fulfill my lifelong dream of playing Division I athletics, as an ice hockey player."

‪"I played the sport I love at a D1 level, have opportunities to learn & lead along side some of the strongest women I know."

‪"I was seen as equal within my role as graduate head manager for an elite Division 1 Men's Team"

‪"I have the ability to travel to various sporting events and pursue a career that I love!"

‪"My professional/athletics careers are possible. I wouldn't be where I am if not for the women who came before me"

‪"I can dream."

‪"I was able to travel to Dallas to cover the Women's Final Four, and have pursued a career in athletics"

‪"I played. I coached. I studied. And now I teach, I learn and I lead."

‪"I get to work with Rhett at Fenway Park!!"

‪"I'm able to pursue a career in the sport industry & use it as a platform to advocate for female athletes"

"I'm a 7x All-American w/2 Master's, a career in athletics, making a difference in the lives of student-athletes"

"I was able to be a Division I Softball Student-Athlete!"

"Opportunities are endless and the best relationships are made."
For more Tweets and Instagram posts or to engage in the dialogue, check out #BecauseOfTitleIX and #TitleIXat45.  Let's continue sharing each of our success and promote equality for all.
"No person in the United States shall, on the basis of sex, be excluded from participation in, be denied the benefits of, or be subject to discrimination under any educational program or activity receiving federal financial assistance." Title IX of the Educational Amendments of 1972 to the 1964 Civil Rights Act.
---