Written by: Rosalie Pisano
My name is Rosalie Pisano and I am from Bainbridge Island, Washington. This summer, I had the opportunity to intern with the minor league baseball team the Connecticut Tigers. The Tigers are the Single-A short season affiliate to the Detroit Tigers. The team plays in Norwich, about 35 minutes from UConn. I was able to use my connections with the Sport Management program at UConn to get this internship. A fellow classmate, Paul Wettemann, interned for the Tigers the summer prior to my year, and he put me in touch with the general manager of the organization.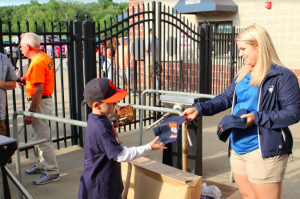 Over the summer, I experienced a lot of different things with the Tigers. The stadium was host to the Northeastern Conference Championship for baseball at the very beginning of my internship. Before that, I helped to prepare the stadium for the upcoming season. During the season, I was able to try out many different parts to running a baseball team, from ticket sales and merchandising to promotions and front office work. This internship also taught me a lot about event planning, and all that goes into planning an event. Toward the end of the summer, the stadium hosted the Jeffrey Osborne Celebrity Softball Classic. Many professional athletes participated in the event, including some big names.
Looking back on my internship experience, I have learned how hard it is to run a minor league organization. Everyone in the organization loved what he or she was doing, and was willing to spend countless hours bettering the team. They helped me to learn more about what I want to do and who I want to be post graduation. I enjoyed helping to plan a lot of the events because, once it comes around, all of the hard work pays off into one culminating day. I also really enjoyed running the social media and thinking of fun new ways to increase our platform's following. Looking forward, I think that I want to work more on the media and public relations side of things. Though I really enjoyed working for a baseball team, I think I would like to be more on the player side of things. I am interested in pursuing a career in player relations for a sport apparel company, or media relations in the sport field for a professional team.
---