Written by: Ivy Kim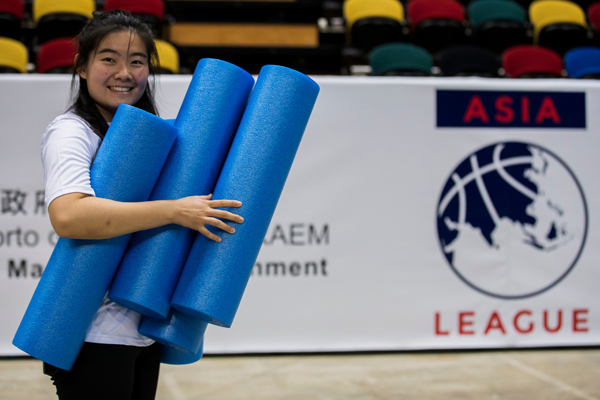 My name is Ivy Kim and after being born in California, I grew up in Taiwan. This summer, I had the incredible opportunity to work at a startup sport organization, Asia League. Asia League is headquartered in Hong Kong, China. Its core mission is to provide a platform "to raise the level of basketball in Asia through the delivery of high-level club to club basketball tournaments, featuring teams from the top leagues in Asia: CBA (China), KBL (Korea), B. LEAGUE (Japan), PBA (Philippines), SBL (Chines Taipei), and ABL" during the off-season. Asia League is dedicated to enhancing a well-rounded opportunity not only for leagues and teams but also for coaches and referees, which allow them to exchange skills with the intention to support basketball development. Nonetheless, they commit to continual collaborations among leagues, teams, and government stakeholders. This year, Asia League expanded the scale of the tournament and closely collaborated with the Sports Bureau of Macao SAR Government while organizing Summer Super 8 this past July and The Terrific 12 in September.
During my internship, I was involved with many tasks across the board from event management to basketball operations. I assisted in organizing the Summer Super 8 from preparation, execution, all the way to post-event evaluation. Despite the challenge of potential language and cultural barriers, I successfully managed all the equipment in the locker rooms and refreshments in the media center: from ordering, handling payments, to final delivery with the local vendors of Macau. I led the on-site operations, managed inventory, and assisted scoreboard personnel and game commissioners with team rosters and statistics sheets. The week-long tournament allowed me to interact with people from different sectors and backgrounds, all of who collaborated together to make this event possible.
I truly felt that my role as intern was just as important as any other full-time position. Despite the long hours and countless emails and phone calls, I was prepared for the worst and ready to take on any unexpected challenge. I learned to voice my concerns and shared suggestions during meetings.  I appreciated the organization's emphasis on looking out for each other under all circumstances and maintained respectful relationships with collaborating staff and organizations. Ultimately, with all the people I met and tasks I managed during this three-month journey, I plan to carry all these valuable lessons into my senior year at UConn and beyond.
---