Classroom Focus: Application of Sport Law
On Wednesday, October 21, 2015, students in Legal Aspects of Sport were engaged in a Moot Court oral argument assignment.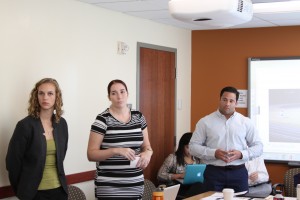 For this assignment, students were divided into four groups with three students in each group. Each group was assigned to represent the plaintiff or defendant in a hypothetical sport-related litigation scenario where they were asked to use legal concepts, theories, statistics, personal experiences, and creative/independent thinking to successfully research and develop their affirmative advocacy position in a written legal brief. On October 21, the groups orally presented and argued the positions expressed in their written submissions.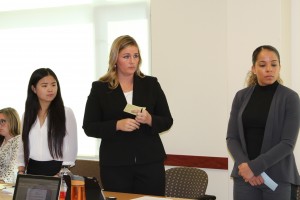 Denise Zamore, who has practiced law for 15 years and currently serves as a Senior Associate General Counsel at United Healthcare, presided over the oral arguments as the judge. Her active questioning and challenging of the students' positions created a context and atmosphere that provided students with the opportunity to think on their feet and apply legal concepts and public policy considerations through a real-world advocacy exercise.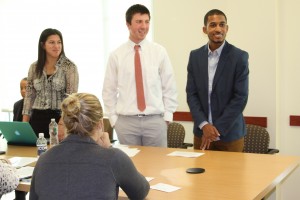 The Moot Court exercise was a success, and students were able to apply the theoretical knowledge they acquired thus far from the course to real life experiences (practical) and situations. Overall, students did an excellent job presenting their arguments. After the conclusion of the Moot Court exercise, Ms. Zamore provided students with useful feedback to consider in their future endeavors, involving sports law.
---