Alumni SportPath: Matt Ouimette – Three lessons for success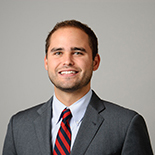 As a part of a continuing series, we turn the spotlight on members of the UConn Sport Management Program (SMP) Alumni Community, focusing on the diversity of experience and breadth of knowledge they have gained within the industry. Designed to help current and future SMP students learn to navigate and understand the real-world intricacies of sport management, we thank SMP alumni for their valuable contributions and insight. Today, the focus is on UConn alumnus Matt Ouimette (Sport Management, 2012).
As an incoming freshman to the University of Connecticut, I knew I wanted to get involved with the athletic department. While I was still in high school I emailed a former classmate working in athletics in the hopes of obtaining a position. After a few emails back and forth I found a home in the football equipment room- not what I had hoped for but I graciously accepted. Soon thereafter I was asked to fill a vacancy as a video assistant to the men's basketball program. What started as a simple email resulted in working over 100 UConn basketball games all over the country.
Lesson 1: Maintain and utilize connections.

My position as video assistant required me to work home games and the occasional practice. Instead of limiting myself to the required duties, I tried to get as involved as possible. I attended as many practices as I could, assisted team managers when needed and completed each task I was given quickly and effectively. Due to my commitment I was given more responsibilities and was fortunate enough to work events such as the 2010 Preseason NIT, 2011 Maui Invitational and the now historic 2011 Big East Tournament.
Lesson 2: Take pride in your work no matter how small the task may be.

In the excitement following our victory over Louisville to take the Big East crown and complete "5 Games in 5 Days" I was approached by a stranger. He told me UConn had forgot to cut down the second net and the MSG staff were about to remove the basket. He provided me a ladder in exchange for a piece of net. Unbeknownst to me, the man was the CEO of the software company I had used the previous four years at UConn. He offered me an internship on the spot.
Three months later I was in Pittsburgh, Pennsylvania on the sidelines of Heinz Field testing Still Shot equipment for NFL use. Through the course of my internship I was exposed to numerous NFL, NBA and NCAA clients, creating valuable relationships in the process. I was also able to test instant replay software that was eventually adopted for the NCAA men's and women's basketball tournament.
Lesson 3: Network! Not just a simple exchange of contact information but tell your story and detail where you want to be. You may just find yourself in the right place at the right time!

During my sports career I have worked over 200 NCAA basketball, NCAA football, FCS football and NFL games from Connecticut to Hawaii- and it all started with an email.
Matt Ouimette
SMP Class of 2012
---