Issues in Sport: Diversity in Sport Leadership
Article written by Kimberly Armstrong, re-published courtesy of The Daily Campus
Earlier this year, the Buffalo Bills hired Kathryn Smith as the NFL's first female full-time assistant coach. Despite the excitement surrounding Smith's ascent into football history, the consensus among panelists Thursday morning at "Issues in Sports: Diversity in Sports Leadership" was that this is just the beginning for women on the sidelines.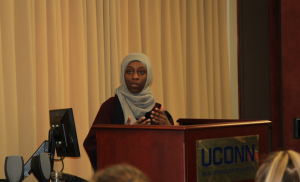 "Issues in Sports: Diversity in Sports Leadership" was part of sports management graduate student Wura Olusekun's cornerstone project. Olusekun, who hosted the panel, said she chose to study sports management at UConn's School of Education because of the program's emphasis on diversity and social issues.
"I'm not an athlete but I was very interested in the connection between education and athletics," Olusekun said. "The term 'coach' and 'teacher' can be interchangeable."
In order for women and minorities to progress through the ranks of sports management, athletics organizations need to understand how diversity ties into the overarching goals of a successful franchise, said panelist Nicole Melton, an assistant professor of sports management at the University of Massachusetts Amherst. Melton said that her research into Division 1 programs suggests that the most diverse programs are also the most competitive.
"We saw that the ones that had the most diversity and the most inclusive practices, they out performed other D1 leagues, they made more money," Melton said.
Making these changes across the world of athletics, however, has to be about more than just PR to be effective. According to the panelists, it requires a cultural shift away from "tokenism," the pursuit of diversity for diversity's sake, in exchange for ongoing support of inclusive workplaces that encourage employees to reach their full potential.
"It can't just be, 'oh we need to hire some diversity'," Melton said. "It needs to really be tied to the message [of the organization] so that people understand why this is beneficial."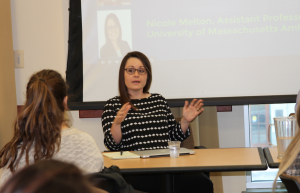 Fleurette King, director of the Rainbow Center at the University of Connecticut, likened this shift to the recent changes in how the NFL and other leagues handle concussions among players. No matter how supportive an organization's policies surrounding concussions may be, King explained, players are still at risk if league culture values keeping them in the game over their long term health.
"If you don't change the culture around how people feel about the concussion, and how they feel before and after the concussion, it's not going to help," King said.
Similarly, women, people of color and LGBTQ people can't be fully appreciated in sports leadership positions if they are viewed as tokens of diversity rather than accomplished colleagues who deserve to be there. This is part of the reason why policies like the Rooney Rule, which requires the NFL to interview minority candidates for open coaching positions, can be less than effective even when they do result in a minority candidate getting the job.
Another issue with this type of hiring policy is implicit bias, the human tendency to be most comfortable with familiar people. As an example, Melton, a Texas native, admitted she would feel an immediate bond with anyone from the south even if she knew nothing else about them. The impact of this implicit bias can be as simple as who someone decides to start a conversation with or, in this case, as high stakes as who gets chosen for a head coaching position.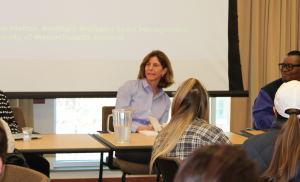 "We see with research that we tend to think similar things with race, with gender, with sexual orientation," Melton said. "If there's only three old white dudes on the search committee, they might not recognize the implicit bias that they have."
Laura Burton, an associate professor of sports management at UConn, said she believes exposing athletes to female coaching early on could help remove the barriers to women at the university and professional levels. While there remains a mix of male and female coaches for women's sports, encouraging female coaches to stick with youth sports past middle school could help shake the idea that male players require a strong male presence to perform on the field.
"It could mean a mix of men and women at all levels, and I don't know if I'll ever live to see that but I'd like to move us in that direction," Burton said. "We need to recognize that right now women only have access to one group."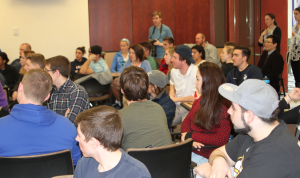 ---