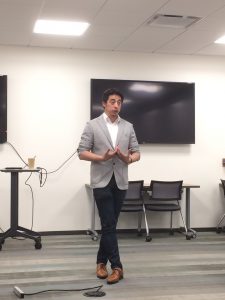 Sport Management alumnus Mikio Yoshimura, who currently works as the Asian Business Development Specialist for the Boston Red Sox, served as the guest speaker at a Brown Bag Luncheon in Boston on Tuesday, June 13.
The event, put on by the Japan Society of Boston, was titled "Japan and the Red Sox: A View from Inside." During the luncheon, Yoshimura shared experiences about all the work that the Red Sox organization and Fenway Park have done with Japan.
UConn Sport Management congratulates Yoshimura for this accomplishment and looks forward to seeing all that he will achieve in the future with this organization.