Student Focus: Volunteering for the US Women's National Soccer Team
Written By Sofia Read
On Wednesday April 6, 2016, the Sport Management students, staff, and friends, had the unique opportunity to volunteer at the U.S. Women's National Team game vs Colombia at Pratt & Whitney Stadium at Rentschler Field in Hartford, Connecticut. Despite the rather colder weather conditions, there was a fantastic turnout to support the reigning World Cup Champions.
The volunteer opportunity was organized through The U.S. Soccer Federation and their analytics department. Our primary responsibility was to recruit fans to participate in a quick survey created by the Federation. The survey included basic questions related to demographics, the family or individuals' fandom, and knowledge of U.S. Soccer product and services. Volunteers arrived approximately 2 hours before kick-off for a brief run down of duties and expectations. We all received U.S. Soccer Shirts featuring the new logo to wear during the game. From the time the gates opened to kick-off, we spread ourselves throughout the concourse to collect responses for the survey.
Although it was an unusually cold April evening, it was exciting and impressive to see so many passionate fans draped in red, white, & blue. In addition, many fans were openly supportive of the recent U.S. Women's National Team wage discrimination lawsuit.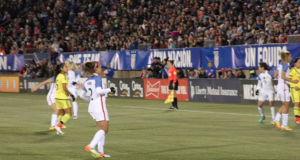 The team dominated on the attack and beat Colombia 7-0, scoring a speedy 4 goals in just 12 minutes. Crystal Dunn, Allie Long, Mallory Pugh, Carli Lloyd, Tobin Heath, and Christen Press all tallied impressive goals on the night. Colombia and The U.S. Women will meet again on April 10th, at Talen Energy Stadium in Chester, Pennsylvania.
This exciting volunteer opportunity allowed us to not only witness a great soccer game, but also gain experience in fan engagement and organizational practices. Overall, it was a rewarding experience that provided sport management students the ability to gain additional insight into the industry.
---