The NACWAA Mentor Program
Written By Paige Klostermann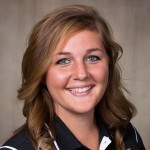 The National Association for Collegiate Women's Athletic Administrators (NACWAA) is committed to increasing connectivity among women athletic administrators. Even more so in recent years has NACWAA started to help build relationships between successful industry leaders and new-comers through the NACWAA Mentor Program. The NACWAA Mentor Program is a program in which mentors (successful administrators) are paired with mentees (talented up-and-comers) that are committed to advancing and excelling within collegiate athletics. The hope is that the mentorship that is built is mutually beneficial for both parties.
Current second-year UConn sport management graduate student, Paige Klostermann, was accepted into the NACWAA Mentor Program this year as a mentee. Klostermann was matched with Angel Mason, Assistant Athletic Director at Hamilton College, a Division III college in New York. Within the application process Klostermann listed her future career goals, strengths and weaknesses, as well as areas in which she wished to learn more about. Mason fulfilled many of the things Klostermann was looking for as she has held multiple roles within coaching and administration across the country.
The three part mentor program begins at the NACWAA national convention in October where each individual is able to meet each other. It is there where a program goal(s) is decided and a strategic plan is made on how to go about achieving that goal throughout the course of the year. Klostermann had a goal in mind to learn more about the job search process and ultimately find a job within collegiate athletics after graduation.
Paige & Angel currently keep in touch via phone calls and emails on a consistent basis to update each other about the job search, ask questions, and bounce ideas off of each other. "Angel has an outstanding mentor to have through the job search process. She has brought new ideas to the table for me, answered numerous questions regarding resumes and cover letters, and has truly been a strong advocate for me when positions become available" Klostermann said.
The NACWAA mentor program has about 60 females that are paired within the program. Mentors range from Athletic Directors to Conference Commissioners to NCAA representatives and mentees range from graduate assistants to young administrators and coaches. While the program lasts a year, it is the hope that these mentorships will last a lifetime. For more information regarding NACWAA and the Mentor Program, visit: their website. Applications open for the upcoming Mentor Program in early August with announcements regarding program participation/acceptance in mid-September.
---