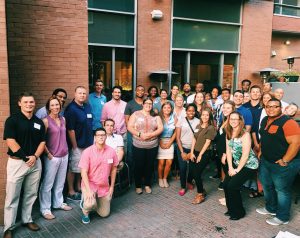 The UConn Sport Management program held its third annual summer networking event at the Salute Restaurant in downtown Hartford, Conn. on August 24, 2017.
The night was filled with many laughs and stories shared between alumni, faculty and sport professionals, paired with great food and drinks. The event served as an opportunity for the programs' alumni to reconnect in a positive, outdoor atmosphere.
Many of the incoming Sport Management graduate students were also in attendance at this years event and were able to meet with some of the established and successful alumni who are still in the area.
Attendees included Sport Management faculty members Dr. Laura Burton, Dr. Joseph Cooper and Dr. Jennifer McGarry. Several alumni who are currently working with UConn Athletics were also present at the event, including Kristina Tedford, Danielle Upham and Jason Lublin.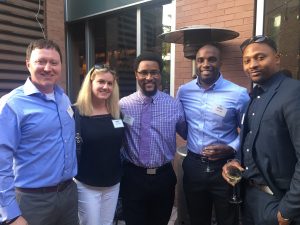 Members of the Sport Management faculty, staff and internship programs who planned this networking event enjoyed providing an opportunity for alumni to stay connected with the program, as well as the new and past individuals who will always be a part of it.
The event marked a perfect end to the summer and an exciting start to the upcoming school year. As the fall semester commences, the program is looking forward to the annual Career Night in Sport, which will be held on October 17. Information and registration for this event can be found on the Sport Management website, under 'Upcoming Events'.
---