Written by: Cristina Vincente
Having grown up in Mansfield, Conn., my entire life has lead me to create a special bond with the University of Connecticut. After being accepted into the UConn Sport Management program and becoming a Digital Media Creative Team intern during my second semester in the program, that bond with this school and this program has only grown stronger. This summer, I was fortunate enough to build upon this bond while interning with the programs' department head, Dr. Jennifer McGarry, to plan events for the Sport Management program. I was able to obtain this internship with the help of both Dr. McGarry and Digital Media Manager Nellie Schafer. They were aware of my passion for working with social media and event planning, and therefore lead me into this current position as event manager for Sport Management. I have been working right on campus, in Storrs, to plan alumni events and expand our program's social and digital media efforts.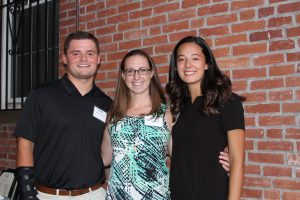 So far this summer, I have coordinated the Sport Management Alumni event that was held in New York City toward the end of June. In addition to planning it, I also was able to attend the actual event which was an amazing experience that connected me with a lot of alumni from the program. I also planned an alumni networking event that was held in Hartford, Conn. at the end of August as well as the 2017 Master's Orientation that took place during the first week of the semester. I am currently in the process of planning this fall's Career Night in Sport, which will be held in October. While establishing all of these events, I have been collaborating with several different individuals to figure out logistics for everything from food and catering, to photos at the event, to sending out invites. The event planning aspect of my internship has certainly been rewarding and a great experience.
Along with planning the events, part of my internship has included conducting several job interviews. I met with a variety of women working in different fields of the industry who were all at different stages in their respective careers. Speaking to such successful professionals exposed me to many career paths and opportunities. Each professional provided me with great advice and encouraged me to find my own path.
In addition to the events, job interviews and valuable connections, I have been continuing working with the Sport Management Digital Media Creative Team. As an intern for the team last spring semester and this coming fall, I have been helping to keep the program's Twitter and Instagram actively engaged throughout the summer months. I have been able to highlight the events that I planned, use connections with alumni to feature them on our platforms and have been researching interesting topics and events in the sport world to feed our Twitter campaign, #EngageInTheDialogue.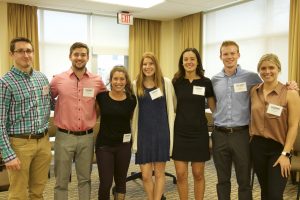 There have been so many valuable takeaways from this internship for me. I have learned that the connections you make and the relationships you build in the sport industry are what will take you a long way in your future career. I have also learned a lot about appropriate etiquette for professional communication. Having to constantly communicate with the faculty, alumni, vendors and others in the field has taught me how to communicate effectively, whether it is via email, phone or an in person conversation.
Finally, I would say that one of the biggest learning experiences from all of the job interviews that I conducted is to stay true to who I am. Everyone has varying likes and interests and therefore everyone will have a different career path and different goals that cater to them. This has been an important lesson for me to learn as I enter my senior year and think of my future beyond undergrad and the path that I want to create for myself. I have enjoyed this experience in event planning and hope to continue along that same path as I more forward in my career. I hope to stay on the athletic side of events, because I love the atmosphere of working game days and just being around the excitement of sports. I love the unique connections that sport creates between people of different genders, ages, races, ethnicities, religions and much more. I am beyond thankful for this opportunity and I am very excited for how it will affect my post-graduate future plans.
---