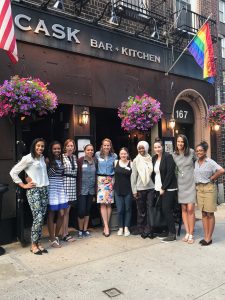 Members of the UConn Sport Management program, all gathered together on June 27 at the Cask Restaurant and Bar in New York City as part of a summer alumni networking event and celebration.
The happy hour lasted into the night, as the alumni, faculty and fellow huskies working in sport shared appetizers, laughs and old memories from their days at UConn. Attendees included alumni from the recent graduating class of 2016, as well as those who were members of the undergraduate class of 2004.
Drs. Laura Burton, Joseph Cooper and Jennifer McGarry (Bruening), Sport Management's faculty, were also in attendance, along with current undergraduate student and Sport Management intern Cristy Vincente.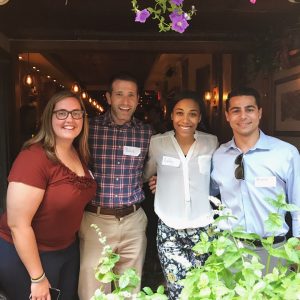 The second annual happy hour event provided the opportunity for alumni in the greater NYC area to reunite, connect and continue to build relationships with those in similar career paths and academic backgrounds.
The Sport Management program is always looking for ways to connect its alumni with one another after graduating.
The UConn Sport Management program is excited for its next alumni event, where alumni and graduate students will meet in the Hartford, CT area at Salute restaurant on August 24.  For more information or to register, please visit our Summer Networking Event.
For photos from the event, visit Neag's Facebook page.