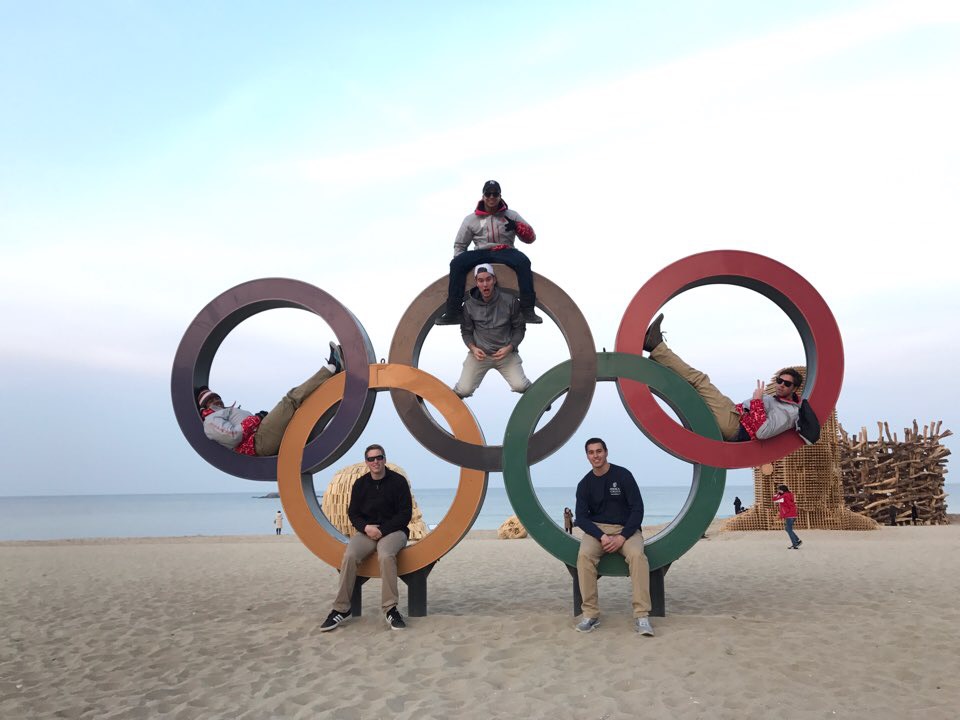 Associate Sport Management professor at Ithaca College, Dr. Rachel Madsen, had a very exciting opportunity this past February to travel to Pyeongchang, South Korea and volunteer at the 2018 Winter Olympics.
Madsen, a 2010 graduate from the Sport Management and Women Studies doctoral programs, spent over two weeks in South Korea with 20 Ithaca College School of Business Sport Management students.
During her first ever Olympics, Madsen and her team worked specifically with the event operations department in seven different competition venues, interacting with fans, athletes and coaches to provide customer service.
She and three of her students volunteered in the skating rink that housed figure skating and short track speed skating. Because those are two of the most popular events in the Olympics, they are typically scheduled to air live during U.S. prime time, meaning very early mornings for Rachel and her team.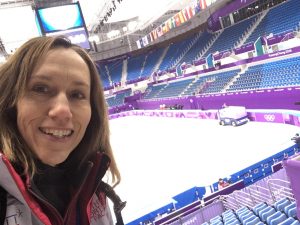 "Many days for us required waking up at 4:30 a.m. to catch a 5:15 a.m. bus to the skating rink. From 7:00 a.m. to 4:00 p.m., we managed the fans and other visitors to ensure that everyone had a positive experience while also staying safe and not interfering with the athletes," she said.
When asked about one of the greatest experiences that she had during her trip, Rachel said it's too hard to narrow it down to just one.
"We often came face to face with famous athletes and other VIP's, such as IOC members and the Today Show hosts. We were able to attend history-making events as fans, which was a dream come true. The Korean Olympic Committee often provided free tickets for volunteers to attend events, as long as the event wasn't sold out," she said. "Additionally, as Americans, we were often treated like celebrities by Korean fans and volunteers. Many Korean fans asked us where we were from and when we said New York, they often wanted to take pictures with us."
Though Rachel spent only 17 days in South Korea, her students were lucky enough to spend five weeks assisting at the games. In doing so, they were able to take part in a monumental worldwide event and appreciate the importance of embracing culture and diversity.
"The students really learned what it takes to put on an event of this size. When watching the Olympics on TV, it's impossible to understand the incredibly complicated logistics of organizing, training, transporting, housing, feeding and motivating 20,000 volunteers," she said. "Being part of a large volunteer staff also enabled them to interact and become friends with other volunteers from all around the world."