Alumni "SportPath": Ronnie Balzano – from UConn to Major League Baseball Advanced Media
As a part of a continuing series, we turn the spotlight on members of the UConn Sport Management Program (SMP) Alumni Community, focusing on the diversity of experience and breadth of knowledge they have gained within the industry. Designed to help current and future SMP students learn to navigate and understand the real-world intricacies of sport management, we thank SMP alumni for their valuable contributions and insight. Today, the focus is on UConn alumnus Ronnie Balzano (UConn Sport Promotion major, Business minor, Class of 2014).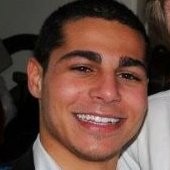 UConn Sport Management Program alumnus Ronnie Balzano (Class of 2014) applies his talents at the cutting edge of digital media operations for one of the most influential sporting institutions in the United States – Major League Baseball.
So how did Ronnie make the leap from engaged college student to employment at MLB's Advanced Media team as a Digital Client Services Coordinator?
"I believe that 100% without a doubt, my internships have got me to where I am today", said Ronnie. "I have been fortunate enough to say that I worked for IMG College at the football and basketball games for all four years while I was in college, spending the last three as the Head Intern. I was able to use my experiences to get an internship as a Global Sourcing and Marketing intern at NewsCorp for the summer after Freshman and Sophomore year. Finally, I was able to really crack into the sports industry by accepting an Ad Sales and Consumer Insights internship within the Research and Analytics department for ESPN."
Following Ronnie's graduation in May 2014, he worked as a Digital Sales Assistant for the National Football League. He was originally directed there by his old boss at ESPN, who believed that would be a great place for him to start his career. After 15 months of working there, his new boss was looking out for his best interests in terms of room for growth and directed him to his current position at MLBAM. While the recommendation of his boss went a long way, he also utilized LinkedIn by finding a 2nd degree connection.
So what is it that Ronnie actually does for MLB Advanced Media?
He works in Digital Ad Sales for MLB.com and Boston.RedSox.MLB.com, which means he is responsible for everything from pre-sale all the way through the post-sale of digital advertisements. He leads the process of getting the insertion orders in house, tracking down creative tags, running sweepstakes and sponsored social media posts, taking screenshots, maintaining the pacing and delivery of all the various placements and reallocating the money elsewhere if need be, creating wrap-up decks to summarize the campaign, and billing.
Suggestions for current students? Internship, network, internship, network – make the most of every opportunity!
---