UConn SMP Alumni SportPath – Michael McGuire, Coordinator, VIP Services with MLB's Washington Nationals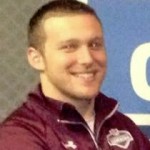 As a part of a continuing series, we turn the spotlight on members of the UConn Sport Management Program (SMP) Alumni Community, focusing on the diversity of experience and breadth of knowledge they have gained within the industry. Designed to help current and future SMP students learn to navigate and understand the real-world intricacies of sport management, we thank SMP alumni for their valuable contributions and insight. Today, the focus is on UConn alumnus Michael McGuire (UConn Sport Management Program, 2013).
UConn's Sport Management Program is among the nation's elite, offering an array of classes that give a comprehensive look at all areas of the industry. It was this wide-range focus that helped set me on my current career path.
Entering college, I intended to become a coach. I got involved early as an Equipment Manager for the Football Team. But as I spent more time in the athletic department and the SMP, I realized I had as much passion for team and event operations as I did for coaching. The perfect marriage of all three came in the form of an opportunity to volunteer at the NFL Scouting Combine. Gaining a contact through my network and with a little patience and persistence, I found myself in Indianapolis the February of my Senior Year. While I preformed various duties over the course of the camp, the crux of my position was ensuring that the event ran as smooth as possible and fostering the best interview environment for all participants.
The Combine helped prepare me for my next role as an Event Coordinator with Red Frog Events. Serving as my internship required for graduation, I wouldn't have known about the organization had it not been for a report I'd done in one of my SMP classes. Red Frog is the parent company of events such as the Warrior Dash, a 5K Obstacle Mud Run Series and Firefly Music Festival. A smaller organization, this position gave me the opportunity to work on everything from customer service to event operations logistics. I would highly recommend that anyone looking for internships or apprenticeships spend time somewhere similar in size. There are more opportunities to learn all facets of the business. Should you capitalize, it will make you a more versatile candidate moving forward.
Following Red Frog and a brief stint volunteering with the Game Entertainment Team of the Delaware 87ers (Philadelphia 76ers D-League Affiliate), I became the seasonal intern for the Community Relations Department of the Washington Nationals. Through the Alumni Association, I made a connection in the organization. I can't say if this helped, but it most certainly didn't hurt. Coupled with lifelong experience directing volunteer service opportunities, the industry skills I developed working events helped me in my role as a face for the Nats in the community. My main responsibilities included managing the in-game military salute program and coordinating the distribution and fulfillment of donations. Through the course of the season, I met many extraordinary people, had amazing experiences and gained a lot of responsibility in the department. By the time the internship was over, much of the staff asked that I keep in touch.
Currently, I am Coordinator of VIP Services with the Nationals. Through checking in every-so-often and updating former colleagues on my career search, my intern manager informed me of the opening and suggested I apply. I now oversee the visit of all VIP Guests to the ballpark and ensure their experience is second to none. And to think; if it weren't for an SMP class report, I wouldn't be where I am today. I'm still involved at the Combine too, for those wondering.
No two "SportsPaths" are the same. For every person who had to intern with five organizations before landing their first full time job, there's someone out there who gained a manager position all from a chance meeting. It's the nature of the beast. But the similarities between those who are successful regardless of career stops lie in the process. From listening to the paths of others and reflecting on my own, here's what I would suggest: Get involved early and volunteer as much as you can. When you get those chances, really invest yourself. Stay late. Ask questions. Introduce yourself and talk to as many people as you can (for those frightened by the term, this is all networking is. Everyone in the industry knows how hard it is to break in. Most would be happy to speak with you). Be a little selfish when it comes to your professional development. Step outside of your comfort zone regularly. Most importantly, the only one who can make anything happen is you. There may be great contacts in your network who can put you in phenomenal places; you still have to be the one to follow through on the opportunity. Believe in yourself, dedicate yourself to what you want to achieve, and there's no stopping you.
And don't forget to pay attention in class.
Mike McGuire
SMP Class of 2013, Husky Forever