Undergraduate Sport Management Students Network with Profesionals "A Career in Sports Night" at UConn Alumni Center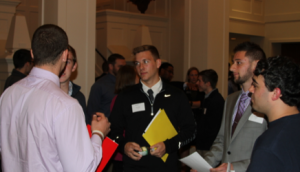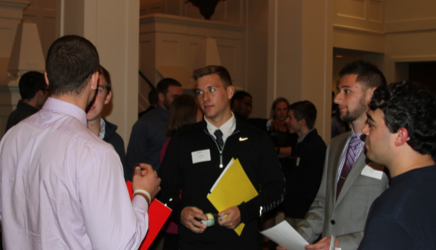 Seeking advice, stories of inspiration and the opportunity to network with industry professionals, more than 60 UConn undergraduate students flocked to "A Career in Sports Night" on October 19, an event featuring networking opportunities and interactive discussions with more than 20 UConn alumni currently working in the sport industry.
Organized and hosted jointly by UConn's Center for Career Development, Alumni Association and Sport Management Program, the event was opened by UConn's Director of Major Gifts, Meg Culmo ('92), who encouraged the students to make the most of such events, as students who came through UConn 10 years ago never had such great interactive opportunities.
Speaking from experience, the UConn communications major, UConn women's basketball captain and NCAA championship-winning assistant coach never thought her career in broadcasting could lead to a job as a political lobbyist or her current position at UConn focusing on fundraising efforts for capital
projects and engaging former UConn student-athletes. Doing her best in each of the roles she performed opened up unexpected doors and networking opportunities with a people in a wide array of industries over the years that has led her to her current job, which she loves passionately as it is full of great people, challenges, and great reward in supporting the institution that helped provide much of the infrastructure of her own success.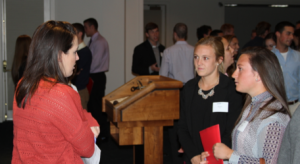 A huge thanks to all of our UConn alumni who participated in the event!
Alyssa Budkofsky: Assistant Athletic Director for Men's Basketball Academic Support at Quinnipiac University
Billy Haubrich: ESPN Multimedia Sales Research Manager
Brent Colborne: Associate Manager at ESPN
Danielle Upham: Assistant Director of Event Management at UConn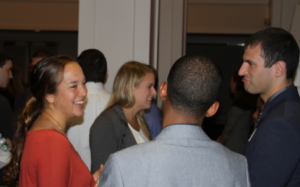 Dave Longo: Athletic Facilities and Operations Manager at Brown University
Jenny Gobin: Motion Graphics Operator at ESPN
Joel Satin: WWE Marketing and Business Operations Executive in Media and Sports
Kate Mainelli: NBC Olympic Sales Marketing Manager
Kirsten Britton: Assistant Director of Athletics/Event Management at UConn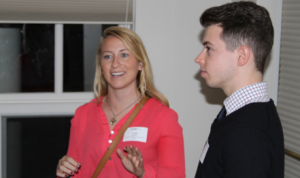 Leigh Michaud: ESPN Remote Production Operations
Lindsey Lemoine: Assistant Director of Video Services at UConn
Lisa Misipeka: UConn Track Assistant Coach/Director of Operations (3x Olympian)
Meg Angeletti: Section Marketing Strategist at USTA
Meg Culmo: Director of Major Gifts at UConn
Meredith Scarlata: Associate Athletic Director/Finance at Brown University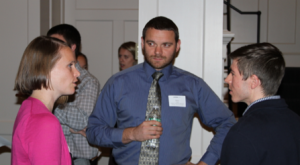 Ronnie Balzano: Digital Client Services Coordinator at Major League Baseball
Sarah Griffin: Sales Coordinator, Affiliates Sales and Marketing at ESPN
Taylor Whiting: Tournament Assistant at Travelers Championship PGA Tour Event
Zack Wainwright: Assistant Ticket Office Manager at Brown University
Aaron Watson: Supervisor at ESPN in Broadcast Media
Julie Purcell: Assistant Director of Compliance at UConn
---