Paul Wettemann is a junior at the University of Connecticut, currently pursuing a degree in Sport Management and a minor in Business Fundamentals. During his time at UConn, he has become heavily involved with the men's basketball team, Sport Business Association (SBA) and the planning of UConn's first Sport Business Conference.
Wettemann serves as the Chief Marketing Officer for the SBA, an organization that helps students further their career paths in the sport industry. The association meets weekly and invites professionals to speak and discuss their employment experiences, providing advice on how to succeed in the sport world.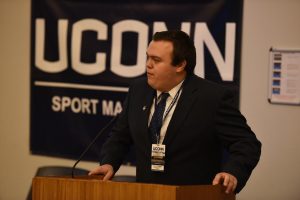 "Everything that I am involved in at this point in my collegiate career has been because of the people I have met and the things I have learned from this group," Wettemann said. "I really do mean it when I say that too, because there are so many different opportunities for people to learn from in the sport industry and SBA gives any student that puts the effort in a great chance to succeed."
In addition to all that he has done with the SBA, Wettemann also served as the co-director and founder of the Inaugural Sport Business Conference, an event that hosted students from seven universities throughout New England to network with fellow students and sport professionals. Held on Jan. 28 of this year, the conference featured employees from organizations including ESPN, Fox Sports, the New York Mets, Connecticut Tigers and Manhattan Sport Business Academy. Through participating in workshops, speaking events and forums, students were given the opportunity to gain valuable experience that spans far beyond what they are able to learn in the classroom.
Since his sophomore year, Wettemann has also worked as a student manager for the UConn men's basketball team. While doing so, he is responsible for assisting the coaches, staff and players at practices and games with whatever they may need. He has even been able to travel with the organization throughout the season, and was granted the opportunity to attend the Maui Invitational this past Thanksgiving break.
Wettemann's sport involvement at UConn does not end there though, as he also works with UConn Athletic Operations as a game day assistant and student leader. As a game day assistant, he completes setup, breakdown and in-game duties at all athletic events, and as a student leader, he is responsible for coordinating with other student employees to ensure that all mandatory tasks are being met.
Wettemann emphasized how much he values hard work, and said that he believes it is truly the key to success.
"One of the most important things that I have ever been told is that you never know who is watching you, so you always want to make a good first impression," he said. "Following this mindset has been a great help to me in my very early career, and it is something that I will continue to try to improve on as I move forward."
In his little free time, you may find Wettemann on the field or the court playing intramural flag football or basketball.
"Each day for me is pretty different, and I think that's one of my favorite parts about what I do, to be honest," he said. "Working in sports can be unpredictable and present new challenges each day, and while some of those challenges may be more fun to tackle than others, I always enjoy making the best of it."
This past summer, Wettemann made his first steps in the sport industry outside of UConn, serving as a front office intern for the Connecticut Tigers. While working with the A-short season affiliate of the Detroit Tigers in Norwich, Conn., he was able to gain experience with the ticket sales, concessions, promotions and operations departments.
Wettemann will continue making strides in the industry, and recently announced that he will be spending this upcoming summer working as a facility operations intern for the Brooklyn Nets. He said that he is excited for the opportunity to begin working with a professional sport organization.
His excessive experience has allowed Wettemann to recognize that in the future, he hopes to work in operations or event management for a professional sports team, specifically for the MLB or NBA, or for a Division I school. He said that sports have always played a large part in his life, acting as an escape from everyday responsibilities and stress, and it has always been a goal of his to turn that passion into a career.
"I have always been a fan of the saying, 'If you love what you do, you'll never work a day in your life,'" Wettemann said. "Now, being a second semester junior and having accumulated all of the different experiences that I have, I can say without a doubt that I will be able to succeed and enjoy every minute of working in sport, because it is something that means more to me than simply watching games or being a fan."
---