Khalil Griffith is a first year master's student in the Sport Management program who was given the opportunity to travel to Kenya, for the second time, from Feb. 23 to Mar. 8 of this year. During this most recent trip, Griffith conducted workshops held to promote healthy masculinity in villages throughout Kibera and implemented positive youth curriculums into communities, with the organization 'A Call to Men.' Here he shares his experiences from both trips, and how his ventures changed not only the lives of others, but his own as well.
I set out on this trip for two main reasons: to enhance my life experiences through sport and to promote healthy masculinity, while also helping to end violence against women.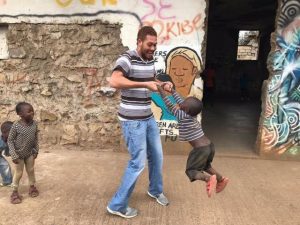 When I traveled to Kenya last June, I laid the groundwork for a student exchange program that uses sport as a tool to provide cultural exchanges between students in Kenya and students in the U.S. During this most recent trip, I not only continued to build that foundation, but I also hosted various basketball camps and clinics in numerous villages and schools throughout the country.
During my time in Kenya, I also conducted workshops focused on promoting healthy masculinity in multiple villages in Kibera, one of the world's largest slums. Last year, the organization, A Call to Men, developed a curriculum for children ages six to 12 to teach this guiding principle. While in Kibera, I worked with other colleagues to train members of the community about how they can implement this important curriculum in their communities.
One of the most memorable moments of my trip was my visit to a women's maximum-security prison. I was amazed by how different the structure was from a typical penitentiary in the U.S. This prison had a very restorative focus compared to the more punitive atmosphere that we often see in prisons in the United States. I had never seen women so empowered by the justice system before. Many of them admire and respect the guards as they would their own mothers. There were also various programs in place at the prison, such as yoga, and we were even able to bring jump ropes inside to the women during our visit. It was truly inspiring to hear about the growth that these women have made during their time in jail, and furthermore to see the joy in their faces when they participated in such programs in a positive environment.
As I mentioned previously, during the summer of 2016, I was granted the opportunity to travel to Kenya to lay the groundwork for sports programming, basketball specifically. While I was an undergraduate student at Ithaca College, I conducted research that delved into accessibility in youth sport with relation to socioeconomic status. This research, in conjunction with my experience in coaching basketball and youth sports programming, is what truly inspired me to make this trip across the world.
Though I had originally decided to travel to Kenya to further my research and conduct clinics, I left having participated in an experience that would change not only my life, but also the lives of many others around the world.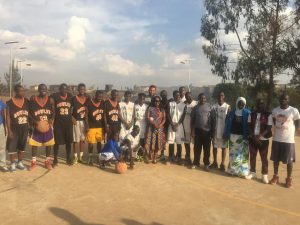 While in Kenya, I traveled around the country and visited schools, interacting and playing with kids ranging from ages three to 19. One of the most memorable experiences that I had was when I spoke to students at Paul Boit Boys High School, an all boys' school in Eldoret. There I discussed with 500 young men the impact that sports has had and continues to have on my life, as well as the opportunities that basketball has given me. After the talk I was then able to interact with some of the young men and engage in activities with them. While that was a truly humbling experience, it was what happened next that had the lasting impact on me.
After meeting with the school principal and other members of the community, they informed me that they had graciously decided to name their basketball court after me. The court was in much need of a renovation, consisting of uneven gravel, crooked basketball hoops and damaged soccer balls that substituted as basketballs. But over the last few months, we have come together to develop a project that will not only completely renovate the court, but will also establish programming for the local youth. In doing so, we will foster a sports exchange program with children in Kenya and in the United States that will allow for a cross-cultural exchange for students all over the world, offering programming to students who otherwise may not have been granted that opportunity.
---