My name is Paul Wettemann and I am from Guilford, Conn. This summer, I was a Facility Operations Intern with the Brooklyn Nets at their HSS Training Center in Brooklyn, New York. I was connected with my supervisor for this internship through one of my fellow UConn Sport Management classmates who interned with the Nets last summer. From there, I sent over my resume and spoke to him over the phone. I was then offered the position.
At my internship, I helped my supervisor and others on my staff in the day to day upkeep of the facility. This included tasks such as making sure the court was properly cleaned and maintained, ensuring that staff and player technology was working properly and guaranteeing that all equipment on the court was intact (nets on practice hoops, cardio equipment, etc.). In this position, I was able to gain a strong insight as to what facility managers do each day and what their major duties are. I also helped with setting up and coordinating sponsor events that were held at the training facility. I was given the opportunity to be the event manager for one of those events, as well as help with a few others. This gave me an opportunity to see how events are run with a professional franchise as well as understand all that goes into consideration when trying to provide a valuable experience for sponsors and other partners.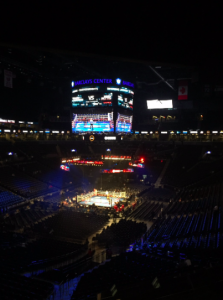 In addition to those events, I assisted in the setup and coordination for various player, general manager and coaching press conferences throughout the summer. This gave me an opportunity to see how the organization and its events functioned on an even larger scale, taking into consideration the media/press, as well as more specific staff needs. I also had the opportunity to network with various professionals that worked for Nets. I was able to meet people who worked in Facility Operations, Public Relations, Basketball Operations, Human Resources, as well as many other departments. It was a great experience and everyone who I interacted with during the summer was friendly and provided me with helpful advice. I was able to visit the Barclays Center on multiple occasions, for a tour and networking opportunity as well as an opportunity to volunteer at a Brooklyn Boxing event for the Event Services department.
My internship in Facility Operations allowed me to understand the full scope of the operations department of a professional franchise in facility maintenance as well as event management. I had experience in events before, but I have now had the opportunity to delve into facilities and learn more about the other side of operations. I am certainly interested in working in operations for a professional franchise in the future. I am now looking forward to building upon my knowledge in the sport industry during my senior year at school, through working with athletic operations and as a student manager for the men's basketball team.