Written by: Maggie McEvilly
My name is Maggie Mc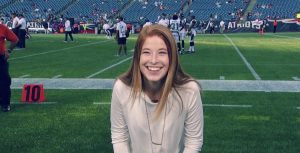 Evilly and I am senior at the University of Connecticut studying Sport Management and Journalism. I hope to pursue a career in the sports broadcasting industry upon graduation and spent this past summer interning with the sports department at WHDH TV Channel 7 in Boston. During the few months that I spent with the station, I learned about the inner-workings of the broadcast industry and how to one day become a successful sports reporter.
Both of the sports producers that I worked with every day were very helpful in teaching me how to write television packages for sports in a conversational and casual tone, something that I struggled with initially due to my prior experience with written journalism. My favorite aspect of interning with WHDH Sports this summer was getting the opportunity to go out into the field and experience what it's like as a reporter on a normal day, from start to finish. Whether it was at a Red Sox game or Patriots training camp, I was able to be fully immersed in the action, whether it was during pre and post game interviews and press conferences in the locker rooms and clubhouses, on the field during games and practices or in media workrooms at the end of each day to watch the writing and editing processes.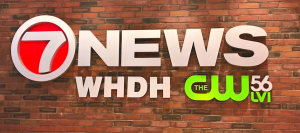 Although I worked primarily with Chelsi McDonald during my time at my internship, one of the three sports reporters at the station, all of the anchors were extremely helpful and accommodating with all that I did this summer.  They thoroughly explained everything that they did while they were doing it so that I was able to both observe and understand, encouraging me to ask any and all questions that I had. One instance of this was when I filmed my first stand-up at the Patriots first preseason game. Although I was extremely nervous and anxious to be on camera for the first time, especially as I was surrounded by professional sports reporters on the field, both Chelsi and our sports photographer encouraged me that I could do it, making me feel confident enough in my own abilities to be successful in doing so. Although they probably do not know how much that specific moment meant to me, it was one of the best from the entire summer because I felt as though I could experience for the first time what it would be like to have a career in this field, and knew that I had the full support of professional reporters to help me get there.  I truly think that this internship has prepared me for a career in the sports broadcasting industry in the near future, as I know now what will be expected of me in an entry-level position and all that I have to do now to be successful in earning one.
---