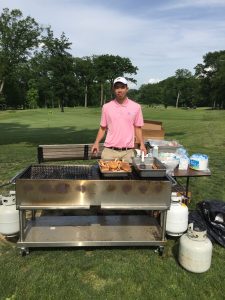 Written by: Liwei Ye
My name is Liwei Ye and I am an international student from China. My internship this past summer was with the First Tee of Connecticut. The First Tee is a non-profit youth golf organization whose goal is to introduce kids to the game of golf, while teaching them life skills and lessons along the way. I began volunteering with the First Tee last summer as a coach, so I was excited to advance to the position of Summer Community Outreach Intern this summer.
In the beginning of my internship, I mainly focused on office related tasks, such as using the printer and stamp maker. One of the bigger projects I worked on involved using a program called Salesforce to update summer program information on the First Tee website. Another big project involved clearing out the storage garages by sorting all of the golf clubs and teaching equipment. Both of these projects required strong attention to detail, because any mistake would have inconvenienced others in the future. We also held different golf events throughout the summer, such as the Final Open and Walmart Charity Classic.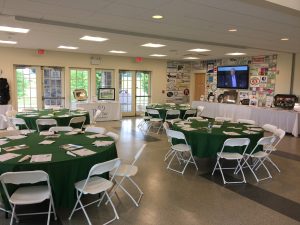 I contributed by helping with the setup and breakdown of events. These events gave me a great opportunity to meet and network with individuals from a variety of different fields.
I still have some exciting things to look forward to that are coming up in my internship, such as the Travelers Championship where I will have the chance to meet many PGA professionals. UConn's very own alumni, Ray Allen, will speak at the Patron's Breakfast during Travelers Weekend. I'll also be working a lot of camps in different areas of Connecticut throughout the rest of the summer.
I am a double major in Sport Management and Statistics, so I am very interested in sport analytics in particular. Although this internship does not deal with sport analytics, the experience is definitely helpful for my career in the long run. It not only provides me with experience in event management, but it also allows me to gain a look at the operations of a non-profit organization that has managed to expand its chapter all over the nation.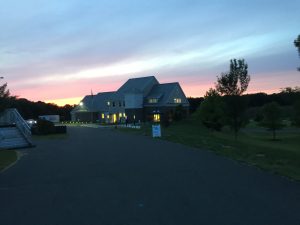 Raising money is a large part of the operation, and I think knowing how to successfully raise money for an event or business is extremely important, especially if I want to start up my own business one day. In addition, I was able to go out and talk to a diverse group of people who work in the field. I felt my contributions to the program have been really meaningful, and I have enjoyed making a difference for kids.
---