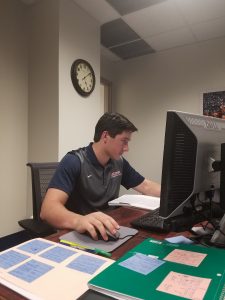 Written by: Walker Hill
My name is Walker Hill and I live in Jacksonville, FL. This past summer, I found an internship in a field I had absolutely no experience in, but was related to my professional aspirations. Through the Husky Leads Tier II Mentorship Program, a program designed to pair students and faculty with similar backgrounds and professional interests, my mentor helped me find my internship.
For the last few months, I have worked in Gampel Pavillion with UConn Athletics, specifically in the Compliance Department. My title for the summer was Intern Assistant for Compliance Services. The rules governing collegiate athletics are so expansive and detailed you need an office like compliance to ensure everyone is operating in co-ordinance with the NCAA bylaws. In particular, UConn Athletics examines many different areas, such as eligibility, financial aid, ethical conduct, amateurism, and awards & benefits. These different areas focus on assisting prospective student athletes (PSA's), coaches and non-coaching staff members so they comply with these rules.
This experience started with simple yet tedious tasks which included filing, scanning and organizing all of the official and unofficial recruit visit forms and all of the compliance forms staff and coaches sign at the beginning of the year. I learned the importance of scanning, organizing, and filing which serves as proactive measures in case the NCAA or internal investigators examine our athletic department. Collegiate athletics are constantly under a microscope and it is extremely important for the school and athletic department to have everything documented well.
As the internship progressed, I started working on more difficult jobs, such as running weekly reports for PSA's and creating new financial aid agreements for incoming PSA's and returning student athletes (SA). Compliance has a hand in many departments across campus, so although I was primarily stationed in Gampel, I also got to work with the ticketing office, admissions, and student athletes themselves. This position also yielded the opportunity to meet many different coaches, Beth Goetz, UConn's former COO, and David Benedict our Athletic Director, which expanded my professional network.
In my previous summer jobs, I have always worked as a camp counselor or swim coach, so this office related experience was new for me but as tasks were assigned, I greeted them with positivity. I used this opportunity to learn more about projects, reports, and other applicable information and paired it with my experiences both as a prospective student athlete and as a student athlete, which helped me to understand why coaches do what they do, when and why.  I intend to use this internship experience in the coaching field, as I would ultimately like to coach a power 5 swimming and diving program and eventually transition into the administration component for collegiate or professional athletics.
---