Written by: Mary Jastrzebski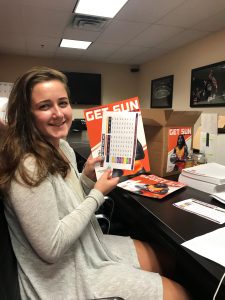 My name is Mary Jastrzebski, I am originally from West Hartford, CT., and this past summer I interned with the Connecticut Sun; a WNBA team that plays at Mohegan Sun in Uncasville, CT. I obtained this internship based off connections that I made through the contacts I found on Mohegan Sun's website, which eventually led to an interview and then the position.
One project I assisted with involved researching and gathering data on local businesses that support breast cancer awareness. The CT Sun team hosts various breast cancer awareness events, so I contacted local businesses to see if they would be willing to help us promote the events. I also created graphics that were displayed on the jumbotron during games. This was challenging because I had to learn how to create these graphics from scratch, but once I had the finished product, it felt amazing. This position required a lot of interaction with people on a daily basis, our fans in particular, as we requested help in promoting team games and special events. I'm a people person so I really enjoyed this part of the internship. I got the chance to meet some of the WNBA players, such as UConn alumna, Rebecca Lobo, and the VP of the CT Sun team, Amber Cox.
One of the main takeaways I've gotten from this internship is that in sport, there is no such thing as 'one person does one job'. Everyone wears a lot of different hats and helps out where they are needed, so even if your job is with will-call, you could be helping roll t-shirts before a game. Another takeaway I've gotten from this internship is that social media plays a huge part in promoting, and a lot of time, work, and thought goes into each post. Every single post has to be sent out to the public at just the right time, being sure to include attention grabbing images, words, colors, and more. From this, I've learned that social media/marketing is the career path that I'm most interested in. I would really like to help market a team by helping with their social media presence by thinking of interesting and creative ways to grow their fan base.
---