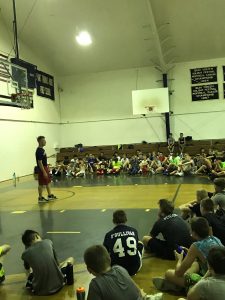 Written by: Ryan Steinman
My name is Ryan Steinman and I am a rising senior at the University of Connecticut. I am from Rocky Hill, CT, which is located right outside of Hartford. This summer, I was lucky enough to intern with the Connecticut Basketball School where I served as the Director of Social Media and Marketing. The Connecticut Basketball School is one of the oldest basketball camps in the country in its 59th year, which was celebrated on August 5th. The camp takes place in Oakdale, CT on St. Thomas More School's campus. I obtained this internship through my high school physical education teacher who is a co-director of the camp. With little to no presence on social media, he brought me in to change that reality, modernize the camp's identity, and drive attendance.
I began this experience by meeting with my former teacher and going over his expectations for the summer. Once this was clear, I began driving around the state a few days a week to hand out pamphlets which consisted of all necessary camp information and details. Being that their target age is 9-17, I went to high schools, middle schools, and elementary schools. In May, I focused on in-person marketing and working to familiarize the Connecticut Basketball School name with schools across the state. Once my academic year ended, I shifted my focus to social media where I began using Instagram and Twitter to advertise the camp online. With an account name of @ctbballschool I was able to create posts on both platforms that included camp updates, photos, general information, etc. The camp ran from August 5th through August 17th and during this time, I captured live footage, make posts, and helped out in various ways.

The biggest takeaway from this internship was the development of my social media and marketing skills as well as the connections I established with the staff. I never knew exactly what I wanted to focus on within the sport industry, but this internship showed me that marketing is definitely an option. I hope my ability to market a product in-person as well as via social media will set me up to land a job next summer. I plan to network with the staff and utilize their connections in the basketball industry to set myself up for the future.


---