Written by: Sydney Gibbs
My name is Sydney Gibbs and I am from Seattle, Washington. This summer I participated in a Match Day Internship with the Seattle Reign, which is a women's professional soccer team based out of Seattle. The team plays at Memorial Stadium, right next to the Seattle Center in the middle of downtown. I was extremely excited to get the opportunity to work with a professional team and found this internship through TeamWorksOnline, an online internship/job recruiter.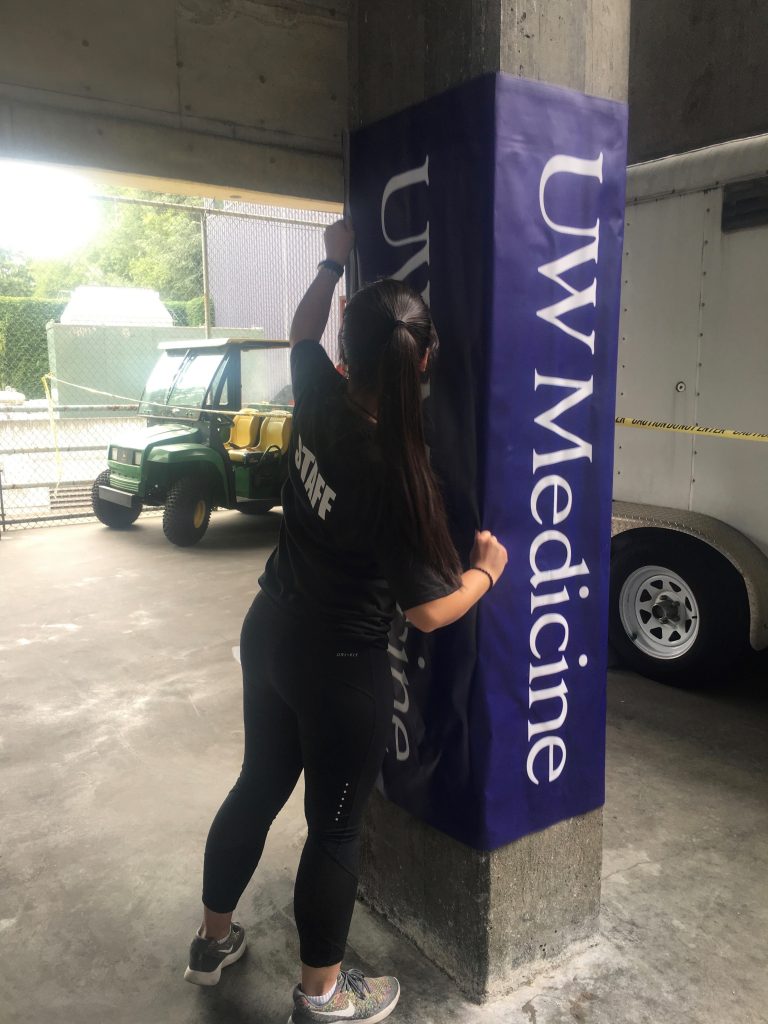 Because this internship was a Match Day position, shifts were not very frequent, but were long, often times lasting ten to eleven hours on game days.  I had a variety of tasks related to setup on these days, which included hanging signs and banners around the concourse, setting up tables and roping off lines at different gates, refilling water stations, wrapping the concourse poles with sponsor banners, and setting up various games for fans to play while inside the stadium. I also assisted with field set up by moving benches, prepared for rain, and set up pitch-side tables for food and drinks. Aside from set up, I also helped with the pre-game presentations, practice walk throughs and the halftime activities. After the game concluded, I assisted with getting the stadium back to its original state: all of the ropes, tables, and signs had to be put away, the trash and recycling was collected, and the goals were taken off the field.
I think the biggest takeaway I got from this internship was that there is truly so much that goes on behind the scenes during sporting events that many people do not even think about or realize. Without all the behind the scenes help, the games simply would not be possible. After taking Danielle DeRosa's Facility and Event Management course, I was very interested in the operations side of sports, and thought it would be very valuable to experience it first-hand. Going forward, I am still unsure about which direction I want to pursue, however I am definitely interested in facility management more so than the events themselves. I look forward to developing valuable skills this year and expand my sport management knowledge as I approach my senior year.
---