Alumni Focus: UConn to ESPN – Three Alumni Pay It Forward
As a part of a new series, we turn the spotlight on members of the UConn Sport Management Program (SMP) Alumni Community, focusing on the diversity of experience and breadth of knowledge they have gained within the industry. Designed to help current and future SMP students learn to navigate and understand the real-world intricacies of sport management, we thank SMP alumni for their valuable contributions and insight. This week, we highlight three UConn alumni currently working at ESPN's headquarters in Bristol, CT who came back to Storrs to speak to students about their experiences in the sport industry: Allison Cantor (B.A. in Political Science, 2004, J.D. in Law, 2010), Brent Colborne (B.S. in Business Administration, a Major in Business Management, Minor in Sport Management, 2005) and Leigh Michaud (B.A. in Sociology, 2009, M.S. in Sport Management, 2012).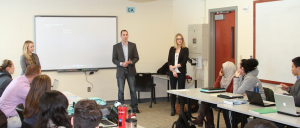 ESPN's tagline says it all: "The Worldwide Leader in Sports" – and for any sport management student, it would be a dream come true to be able to work there. For Allison Cantor, Brent Colborne and Leigh Michaud, that dream is a daily reality and recently the three UConn alumni returned to Storrs to visit Dr. Joseph Cooper's undergraduate and graduate sport marketing classes to share stories with current Sport Management students about how they made the jump from UConn's campus to ESPN's campus in Bristol, CT.
Each plays a unique role in the organization – Allison is a lawyer responsible for licensing and affiliate contract drafting and negotiation, Brent works in programming, negotiating the broadcast deals that put intercollegiate sports on the air, and Leigh holds a key role in planning the logistical and technical operations of ESPN College Football. Despite the different kinds of work they do for ESPN, they all share three important characteristics: a love for sports, a UConn education and a desire to "pay it forward", to help current UConn students pursue their sporting dreams.
The ESPN crew took turns telling the students about their backgrounds, what they studied at UConn, what challenges they faced entering the sport industry workforce, all about the internships and jobs they held prior to their current positions – and shared their own personal recommendations and strategies for students hoping to break into the sports industry.
For Colborne, visiting Dr. Cooper's classes was a little like coming full circle – when he was a student, three alumni who worked at ESPN visited one of his classes to share their experiences at the organization. The connections he made in that class inspired him to pursue a job at ESPN – and guess what? The position he holds today is virtually the same as those who visited his class years ago. Now he stands on the other side of the classroom, and the time and insight he, Allison and Leigh share with current students will no doubt give a helping hand to the next generation of UConn students on their way to a career in sports. It is a great illustration of how the UConn experience connects all Huskies – past, present and future.
---