Sport Administration Focus – Debbie Corum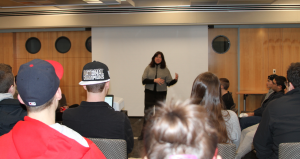 The UConn Sport Business Association was recently treated to a speaking engagement with Debbie Corum, UConn's Senior Associate Director of Athletics/Sport Administration and Senior Woman Administrator.
With more than 20 years of experience in the administration of intercollegiate athletics, Corum told a myriad of stories of the challenges she faced, successes she achieved, and shared some insider's tips on how the students might break in to the sport industry.
In her role at UConn, Corum serves as the sports administrator for women's basketball, volleyball, softball, field hockey and golf. She serves as chair of the Sports Administrators Group and responsible for gender equity, athletic training, strength and conditioning, sports performance and strategic planning.
Corum's career in the industry also had highlights as the Associate Commissioner of Championships at the SEC – developing promotional plans, coordinating television schedules and managing event staff – and working as the Assistant Athletic Director of Intercollegiate Sports at Stanford, where she was the Tournament Director for NCAA and conference events that were held on campus.
But how did she start? After the former athlete earned her bachelor of science degree from Vanderbilt in psychology and education, she had trouble finding work in education – so she took an entry-level job as a receptionist at the SEC. She performed her job so well, in six months she was promoted. Six months later she was promoted again. Six months after that… promoted yet again.
Her top three recommendations to students?
1 – "Do whatever you can to expose yourself to sports, particularly volunteering whenever the opportunity presents itself."
2 – "When you get that foot in the door, do every job you have to the best of your abilities and you will get noticed."
3 – "Be careful of whose hands you step on as you climb the ladder. Everybody falls at one point or another, but how far you fall depends on how many hands are there to catch you."
Wise suggestions, indeed!
---